December 17th, 2004
La Petite Satori
While on tour, I met a poet whose goal at one point in his life was to ask a red-headed girl to marry him and to meet Al Purdy. And he did both those things.

Al Purdy is dead, and the girl said no. Or she said yes, but it didn't work out.

The poet told me other stories as we compared our failings with women. He told me about his flight to the rocks of Newfoundland, and burning the detritus of his relationship in a fire on the beach. In return, I read him a couple of lines from one of my poems:

burning it all, girl
photographs and letters

We nodded in understanding and ate our potatoes, listening to Swedish women talk above the wind blowing off Lake Superior.

But I was lying. Which I do all the time. I didn't burn those photographs. Or those letters. I sure thought about it, dreamed about it all going up in smoke. But the other day, I was talking with another writer that I know, and she mentioned how she'd burnt a pile of stories when she was younger, out of disgust. I was impressed, because I'd never thrown out a story, a poem, a bus ticket with three words written on it. Nothing. I have boxes filled with notebooks that would outweigh me. And I said, out loud:

"I have everything I've ever written, because I'm incapable of letting go of anything."

It was said in jest, but I heard a significant truth in it immediately. La petite satori. Incapable of letting go of anything.

I don't know what it means yet, but I know it's substantial and I'm sure it extends beyond keeping paper scraps. Or keeping 75 + weeks of Daily Mingus online. Or half a dozen other web sites that are well past expired. Or why I'm writing books on ex-wives I haven't touched in five years and thinking of the dead before every sun rise and seeing Chloe and Colette and the Buddha in the windows of every house we fucked in, and cringing just a bit every time I smell real wheat, because it smells like my grandfather's coat, and my grandmother's basement and their autumn funerals and Nat's lap, when I fell asleep on it after I couldn't drink anymore.

And I know that I'm not the only one like this, who doesn't let go of birthday cards or concert tickets or their confirmation bibles or pictures of the dead. If I was, nobody would read or write poetry, or anything else that wasn't numbers.

These things come out of my mouth and they have to mean something.




December 16th, 2004
The Effervescent Fuckaroo
There is an artist that I know. She does some edgy, beautiful and disgusting work. Some of it involves animal foetuses. Some of it involves naked people. I've been following her shows for a few years, and in the past, have been moved to write poems afterwards.

Last week, I was lucky enough to get a note from the artist's lover, who told me that she had read the book. And something in it made her laugh, and she started painting. I imagine the inspiration went like this:

What the hell would an effervescent fuckaroo look like?

And now we know. And it is really quite amazing. I have to say, it was pretty freaking thrilling to see this.

Now, for your viewing and reading pleasure, Mingus Tourette is proud to present his Nunto # 8, and Shelley Rothenburger's Effervescent Fuckaroo (click picture for larger version), presented alongside each other for your concurrent experiencing.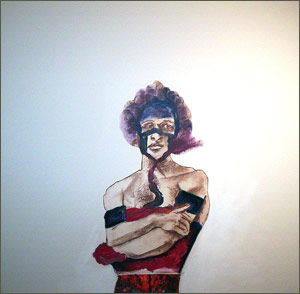 nunto eight

"Literature, shiterature."

fifteen beers in and having a hell of a good time
twisting the fuck out of old Doctor Dick's logic
which is infuriating the cunt hairs off of him

he's got the doctorate in talking books
but I got the writers on my shelf
and no matter what his wish

I know what semantics means
and I'm bending him over on irony
white symbolizes death in the East and
Jesus Wept
is the shortest lie in the book

Dick
you're a smart guy
and you can tell me what their intentions and
metaphors were
but you can't hold your liquor for shit
and now you're getting frustrated and can't stand up straight
in this heated discussion
'cause you never got drunk on words

not like me
like it says on my card

Mingus Tourette
Emphatic Graphomaniac
Chronic Neologist
Thanaphobic Bastard
Purveyor of Fine Apostasy
Effervescent Fuckaroo
&
Notorious Drunkard, Esquire

so shit in the milk of that, doc

The exciting part is: there has been some talk of having a reading at her next show in February. Whether or not that happens, I'll let everyone know when it is so they can see the effervescent fuckaroo in the flesh. In the meantime, check out her work, and if you need that last minute gift that only original artwork can express, some of her pieces are for sale. Trust me, she has the MFA to back her up and she does some fantastic work - and her latest stuff is strangely hilarious. Support the artist!




December 15th, 2004
Poetry on Wheels:
Nunt Christmas Hotshot Service
Due to popular demand, the pink ambulance will be making the rounds of the city this weekend, dropping off books to all the boys and girls who need that special something to shove up the chimney this season. That's right motherfuckers, this weekend only, Nunt is available for free home delivery.*

Holy shit!

So I don't have to repeat this a dozen times: the way this works is:

1. You email the Nunt Christmas Hotshot Service
2. Include your street address in the email.
3. And a suggested time of delivery on Saturday or Sunday.
4. And the number of books you want.
5. Think deeply about what personalized greeting you would like to hear from the PA when it pulls up in front of your house. Keep in mind that I am a KARAOKE GENIUS.
6. Write down your personalized greeting.
7. Send email.
8 . Wait anxiously for confirmation of delivery time.
9 . Wake up on Saturday or Sunday, smile and open the door to happiness and hand-delivered Nunt. If you don't have cash on hand, you will be hit in the face with a shovel. Obviously, the ambulance doesn't take Interac. Optionally, you may pay in advance, online (with your credit card!), and still get door-to-door service. YES!
10. Read. Enjoy. Shiver with moral ambiguity.

Of course, this is all old news to the folks who've already got their drop set up, but for those who don't, it should be pointed out that you only have TEN SHOPPING DAYS TILL NUNTMAS, and there are no more weekends after this. It is time: make the email, receive the books. You are guaranteed that Mingus Tourette will show up at your door with the product in hand at the appointed time. It is that easy. There is no charge for delivery, the books are tax-free, and if you're broke, we have the power to barter for goods or, ahem, services.

If you're wavering, ask yourself this:

How many times in my life will I get the chance to watch a pink ambulance drive up in front of my house, rip the sirens to alert the neighbours, listen to the PA blast out a customized greeting (or Christmas Carol of my choice) and watch a man wearing a gas mask walk up to the front door to serve me up a book of incendiary poetry on a silver platter. All for the price of a movie, and I GET TO KEEP THE BOOK! Hell, it's even critically acclaimed!

If you think I'm kidding about personally delivering books to the masses this weekend, you are obviously wrong. If you need proof, I can send you a photo of myself in a gasmask, protesting America, driving a pink ambulance, or simply nude.

Thanks, in advance, to the folks whose houses I'll be visiting. Big props to BPA, with the biggest X-MAS hotshot delivery order so far. She's got four on the way! Try to beat her! How many can you get?! Just imagine the smiles on your Grandparents' faces when they open this baby up!

Now, if you don't get your shit together in time, (and if I'm not too hungover) you may be able to catch the pink taco parking its ass on Whyte Ave, harassing late-afternoon shoppers on Saturday. Or driving around West Ed in circles, barking into the PA. If you happen to see us, do not be afraid. Instead, break into a full run and throw yourself into our path, and I can promise you that IF YOU HAVE MONEY IN YOUR OUTSTRETCHED HAND YOU WILL BE SAFE. However, if we can't see any bills, there are no guarantees.

We'll see you on the weekend.

*Offer valid only in E-Ville. If you want me to drive to Calgary to deliver you some books, it will cost you your wedding ring, tuition money, your relationship or your virginity, whichever you hold dearest.




December 14th, 2004
the jade wrinkle
After she fell in love with a religious man, the Buddha became conflicted. She enjoyed his company, but she did not feel fulfilled. In truth, she was never complete when she wasn't spending her nights in coitus. So she wrote to her old lover on a small blue card that she stamped with the sign of the jade garden, lightly pressed in red ink.

The note read:

M

I am still not in love with you, but I am in love with you at night.

Let us meet sometime soon?

R

Arrangements were made, and she was in love with him for a night. After the army's banners had been surrendered, her lover lay beside her, gently penetrating her jade garden. He was happy to be in the garden, plucking at her lute strings.

However, after several minutes, he happened to look down as he moved with her and saw a wrinkle on his belly that he had not seen before. It was not fat, but the skin appeared differently than it often did. He pulled the Buddha atop his iron flute and studied the wrinkle from a different perspective. It had definitely changed from how he remembered it. The fold of skin looked finer, less plump.

Worried that the wrinkle might affect his concentration, the lover moved the buddha onto her belly, thrust his flute deep into the garden and strummed the brass harp. Within moments, she gasped and her sea turtle swam in steady waves till it reached the golden shore. The lover reclined, his iron flute still tipping the pearl-handled scale, and he considered the wrinkle. The buddha turned over, and gazed at him. She did not smile. Her hands clasped her stomach and her face shone gently with perspiration. She lifted her left leg gingerly to let the wind pass from her dove path.

You are aging, she said, as the wind made a loud noise against her sweat-soaked thigh. This is what you are thinking.

How do you know? he said.

Your flute, she said. It is still made of iron.

She was right, he thought. He had not climbed the golden sceptre.

She reached out to him and and began to rumble his orchid shrine. He groaned, and tried to forget the wrinkle. He lay back, staring at the ceiling. The moonlight shone through the curtains, painting blue light on the plaster and he saw only the folds of his flesh. He remembered, years earlier, plucking an old widow's lute strings, and the way her skin folded, softly, beneath his touch. Her garden had been damp and inviting, and her skin slid gossamer against his. The way, he supposed, his skin would eventually slide as he strummed the harp.

The wheel turns, he thought. Now, I am the old widow. It is as Yuriko once said:

we are waiting
as the flesh falls

The buddha pressed her lips to the iron flute, and whispered softly to it. The lover watched her cheeks form the silver willow, and he was grateful for the moment, for the flesh was nothing and this one night was everything, and the iron flute was still firm and ready to obey his commands. And he stood.

The banners are yet arrayed, he said. Prepare your lotus, for the golden sceptre is dawning.

The buddha farted once more and laughed. He nodded intent and she bowed serenely, then lay back and opened the jade gates for her lover.

Like forgotten silver minnows, they swam till morning.




December 13th, 2004
herr doctor
Tourette stood in the middle of the video store, staring at the face of Juliet Binoche. And he loved her. And everything about her. She spoke French. And she acted in Polish art films named after colours. And at one point, she had a heated affair with Daniel Day-Lewis, who was the best, most-underrated actor in the world, even with the Academy Award. And she didn't care precisely how a man looked, because everyone looks the same in the dark, she said. And Tourette thought about this and he nearly wept.

Unable to bear the presence of her beauty any longer, he rented Dr. Strangelove, because it seemed like the thing to do. And he went home and took off his pants, and watched in amazement as Peter Sellers and Stanley Kubrick performed magic tricks. Between the Strangelove and the Catch-22 and Slaughterhouse Five, Tourette thought, there is really something funny about war. He don't know what all them democrats been crying about all this time. And he was at peace, if just for a couple of hours.

Heck, I reckon you wouldn't even be human bein's if you didn't have some pretty strong personal feelin's about nuclear combat. - Slim Pickens

Gentlemen, you can't fight in here! This is the War Room! - Peter Sellers

Mein Führer! I can walk! - Peter Sellers

ps. happy birthday, K. hope you liked yer card...





But What Happened Last Week? By God, Find Out Here!