June 3rd, 2005
BlackHearted
In an effort to counter the sinking red chips and an agitated board of directors, Mingus Tourette informed Ronald Witters that second quarter brand recognition was on the increase, partially due to publication in a new erotica magazine named Blackheart Magazine.

Witters was unavailable for comment, presumably busy with his acreage, known for its Labradoodles.

Blackheart Magazine is accepting submissions for its next print issue at this time. The magazine, available widely in Montreal, published a hotly revised version of a story entitled The Golden Seduction of Buddha. Yes, that Buddha. It is probably best remembered for the line, "[I] pulled off her pants and mine and kissed her legs, licked her thighs up and down and lapped up the cream on her sweet, eggy nub."

Of course, you may want to read it from the beginning:

The other night I was lonely, and even though it is my lot, being crazy and unfit to marry, I decided to walk and find myself a woman, and went down to the restaurant to see Rae-Anne... [more]





June 2nd, 2005
Actual Words Out of Morrie's Mouth
INT. - MINGUS APARTMENT- NIGHT

Morrie Xanadu and Mingus Tourette stare at each other over a copy of script notes for Roast Kraken. They have been talking for hours. Close to a dozen empty beer bottles line the edge of the table.

MORRIE
...you're still thinking art-house. When I see this, I seeJaws for the 21st Century.

MINGUS
And I see Piranha. And Godzilla. And C.O.B.R.A., for that matter.

MORRIE
I still don't see why you aren't sinking your teeth into this. It's commercial AND it's original.

MINGUS
What is?

MORRIE
Well, the giant squid. The kraken, obviously, hasn't been done before....

MINGUS
(beat)
Do you know who Kirk Douglas is?

MORRIE
Michael Douglas's father? Wasn't he Spartacus?

MINGUS
Yup. And what is he now, about ninety?

MORRIE
Something like that, I guess.

MINGUS
Then why, if this idea is so bloody original, do I vividly remember Kirk Douglas STABBING A KRAKEN TO DEATH WITH A FUCKING HARPOON while standing on the top of the Nautilus when he is about twenty fucking years old?

MORRIE
(beat)
I don't remember that.

MINGUS
20 000 Leagues Under the Sea? Jules Verne? Captain Nemo?

MORRIE
Well, Nemo I know...





June 1st, 2005
Stock Dips
Senior Executive Ronald Witters was unpleased to announce a slight nunt, inc. depreciation in hedge fund numbers through the first quarter.

Percentile red chip earnings indicated that nouveau contact strategy would be necessary to delegate the relevant sales lag. Witters was unrepentant.

"Either Tourette has to pull out something fresh from his bag of tricks, such as textile merchandising, or we're going to have to invoke the breastfish option."

Spectators were jittery with news of a possible BF invocation. The Hong Kong market immediately fluxed and spat out a large Moroccan named Ha-mil. The Mid-East TSI index rumour floated a possible 'Love Song to God' viewing, but was quickly quashed when the 'Renaldo Tsunami Relief' theory was brought to light. Doctor Law, long thought dead, was mentioned as a possible board of directors replacement. Sweaty Charles, as usual, was unavailable for comment, due to incarceration and impending ChodaComb Trafficking charges.

"Nobody wants to see that again," concluded Witters. "But if the manufacturing can't maintain brand relevancy, we may have to resurface the Fish. It would be ugly, far worse than what we've seen here in the past two years, but the bottom line, as always, is the bottom line. And nobody gave mask like the Fish gave mask."

The President was aboard Air Force One at the time of the announcement and made no comment. He was believed to be eating potatoes with sour cream and chives, and mating rigourously with a Labradoodle supplied by a mysterious Canadian designer.




May 31st, 2005
Tu-Pac Drank it in 1990
The interesting part is: as morally insulting as my RickStag presence was, on multiple levels, I escaped physical harm.

Unfortunately, the same could not be said for my friend Touch, who drank nearly as many shots of Alize as I did. Apparently, he broke his wrist in a hiphop incident on Saturday night.

I can't say any more, for fear of police action. Happily, he can still run a beat sampler.

Of course, out of all that, we decided that somebody had to run this town.

Representing E-Ville. Motherfuckers.




May 30th, 2005
The Runes of E-Ville
We came. We saw. We burned down the Jedi temple. No one was spared. Not women, children, nor dignity. All fell in the name of Rick.

Highlights included the relentless performance of my "Wagnerian Ride of the Valkyries Interpretive Dance" on in-house camera, drinking several shots of "Alize" because that's what the big rapstars drink, and throwing up on the back of my taxi driver on the way home.

Rick, unfortunately, never did show up. But we pillaged on in his name.




May 27th, 2005
There Will Be No Warning
They will ride out of the eye of the setting sun, and they shall slay all that oppose them. The air in the western sky will drip with blood and there will be no sound but the wailing of women and the clangour of battle. For the Vikings come under the aegis of one-eyed Wodan, and none shall be spared. They ride the black horses of death, and the red hounds of hell snap at their heels, and as they ride, they scream:

For RIIIIIIIIIIIIIIIIIIIIIICCKKKKKKKKKKKK
GUDMONDSDOTTTTTTTTTTTTTTTTTTTTTTTTTTTTTTTTTTTTTTTIIIIIIIIIIIIRRRRRR.

This Saturday, if you do nothing else in your life, join the Viking war party, or forever hide your head in shame. Strap on your viking helmet, dust off your battle axe, shave your choda, put on your best breastfish t-shirt, stuff a bottle of gin down your nadsack and bring the wrath of Heimdall to RickStag 2005.

Rick needs you. He's only getting married once. If you let him down, you'll feel like a dick forever. There are no excuses. There are no wives, no husbands, no children, and no operations as important as this stag. If you are broke, steal your mother's sherry bottle and pawn a pair of her earrings. If you are lame, have a manservant carry you. If your third wife is birthing, leave her to the tender care of the hired Pygmies. This Saturday, there is only carnage, bloodshed, dancing bears, unholy vengeance and the Ride of the Valkryies.

RickStag 2005

Go. Or Forever Hide Your Face In Shame As the Rest of Us Ride Gloriously Into the Evening Air to Bring DEATH TO THE INFIDELS AND THE CHRISTIANS IN THE NAME AND THE GLORY OF RIIIIIIIIIIIIIIIIIIIIIIIIIICKKKKKKKKKKKKKKKKK
GUDMONDSDOTTTTTTTTTTTTTTTTTTTTTTTTTTTTTTTTTTTTTTTIIIIIIIIIIIIRRRRRR.





May 26th, 2005
RickStag 2005
Mayhem Brewing
EDMONTON, May 25, 2005 -- A big ol' barrel of Edmonton's finest brew of Mayhem is fermenting in an oak-lined cask and is expected to reach maturity on SATURDAY MAY 28 AT 8PM AT THE GLOBE DOWNTOWN. Those who have previously drunk the golden elixir of RickStag Mayhem, namely Mingus Tourette, Rendrag, Nordic Fury and the Minister of Misinformation, can testify to its potency.

"When last I drank Mayhem, I grew a second penis," said Rendrag. "It was fun! I had a light-sabre battle with myself."

When Nordic Fury last drank Mayhem, he accidentally dropped ten kilos of bacon fat on his foot, but such were the brew's powers, he didn't even feel it! As for Mingus Tourette, his yearly imbibing of Mayhem has enabled him to actually consume the complete collected works of Charles Bukowski without even a solitary burp of indigestion.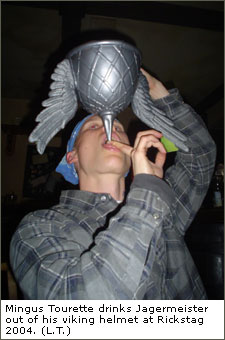 "I almost choked on a paperclip," said Tourette. "But see -- I survived. And so can you."

The following advisory has been issued for the responsible enjoyment of RickStag 2005 Mayhem:

1. Be aware that Mayhem does not equal Anarchy. This isn't 'Nam. There are rules. You must apprise yourself of the rules of engagement by going to www.rickstag.com. There you will learn that there is a method to the Mayhem.

2. To fully appreciate Mayhem, you must wear a Viking helmet. Ah now, there you go belly-aching that you don't have a helmet. Well listen, the shitheads behind RickStag 2005 aren't going to leave you high and dry. Helmets will be provided at a nominal cost. Ah now, there you go grousing that wearing a Viking helmet will make you look like an idiot, or worse -- mess up your hair.

"Can I interject here?" interjected Tourette. "I have four words for those people. PUNCH IN THE FACE!"

"Thanks for the interjection," said the Minister. "But aren't you worried that threats of violence will deter the attendance of our target demographic?"

[Look of angry of bewilderment from Tourette.]

3. Mayhem cannot be expected to reap its full benefits without following the complete prescribed dosage. Exposure to Mayhem must continue for at least 10 hours. Otherwise, don't ask us for a refend if you failed to: grow new appendages/withstand pain/obliviously eat verses of poetry.

"Can I have the last word in this news release?" interjected Rendrag.

"No," said the Minister.
-30-
Seriously, you must go here: www.rickstag.com, before going there.
This release brought to you by Shithead 07823P, The Minister of Misinformation.
May 24th, 2005
The Long Bum Rush
To all those who attended The Unclean art show and poetry reading, thank you for your invaluable support. For those who missed it, the show is on until May 31st. After that, it will be gone. See it before the poetry disappears.

For those who attended the after-party at everyone's favourite blues and biker bar, The Commercial, you may have learned a valuable piece of wisdom about chugging malt-liquor at an art & poetry show. It is odd how we sometimes have to relearn the lessons of our youth. However, you would think that men would remember the consequences of chugging multiple glasses of eight percent buffalo piss.

The math is simple. Three men slammed malt liquor in the basement of the art gallery. Later that night, three men were bounced out of the biker bar, in quick succession. Including myself. As The Dude pointed out, it was right out of an Agatha Christie novel - people just kept disappearing. I don't particularly remember the events leading up to it, but I do remember the long bum's rush to the door. It was sort of like riding a drunk cow - fast and a bit dangerous and well beyond my control. Fortunately, Uncle Pat and the LT were outside immediately to make sure Mingus didn't get a shitkicking from an excitable bouncer - they know the drill.

Malt Liquor. I loved you once. But enough is enough.

And now - the Raving Poets ride again tonight at the Remedy Cafe. RIDE!!!






But What Happened Last Week? By God, Find Out Here!