June 24th, 2005
a murder of two
don't feel much like writing tonight
feel like drinking
but I'll save it for tomorrow

Arthurson says
that he'll be reading about a XXX theatre
on Friday night

which sounds like fun
but I got a night of Pilsner
with an old welder
that can't be put off

we need to talk about trucks
and attaching metal horns to the ambulance
and what it's like to be thirty
married, and quitting smoking

---

hmm
that ain't a fucking poem

---

what the fuck is it?

---

a sign you should go to sleep, fucktard

---

it's getting crowded in here

---

be quiet
let's just go to sleep
and pretend there's good news on the wind

---





June 23rd, 2005
the hopeless case
is it romantic

if I say
that I love long walks in the rain
with wide meandering conversations
that take an hour
as the water drips from my chin

and that I love
the time afterwards
my skin
sliding on the sheets

my chest
slick with sweat - and later
coming loudly
as I watch the sun break
through the evening clouds

is it romantic
all this

if I do it
on my own?

because I do these days





June 22nd, 2005
Post Roast Kraken Script Meeting Number 49
INT. - RONNIE'S HOUSE OF LOVE - NIGHT

Mingus Tourette walks through the command centre. He proceeds directly to the mini-fridge. He does not look at Ronnie, or the four monitors displaying naked young women. Ronnie turns and watches him. Tourette rummages in the freezer for the bottle of vodka.
RONNIE
Good script meeting?
Tourette does not respond. He finds the bottle of vodka and looks for mix in the fridge. He has a choice between an old peach cooler and a litre of buttermilk. He shrugs, empties the cooler into a glass, and free pours vodka to top it up. He snaps back a shot from the bottle before replacing it.

Tourette walks back to the monitor area and sits down on the couch. He stares at the action vacantly and drinks.
RONNIE
That good?
Tourette doesn't reply, shaking his head. After a moment, he holds up a finger, pauses, and purses his lips.
TOURETTE
I imagine that if you had just watched our meeting from behind a glass wall, it would naturally occur to you: this must be what it would look like if two chimpanzees were trying to make an orangutang eat a banana covered in shit.

RONNIE
(beat)
Chimps?
(beat)
I thought these two were the 'blind leading the blind'?

TOURETTE
Fuck that. This is the blind leading the autistic.
Tourette sips drink and stares at floor, shaking his head slowly.






June 21st, 2005
hot man pudding (and more)
So many hot lit events this week.

Thursday: In Cowtown, which I have sworn to violate soon, there is Single Onion action with Richard Stevenson, who wrote an excellent book of poetry called Parrot with Tourette's. I'm sure it will be a drunken brawl, as these Onions are the only people with balls in the entire city. Except maybe the Kaptain.

S0 - that's at the Brew Brothers "Danger Den" 607 11 Ave S.W. at 7 pm. And remember - when you're kicking in the door in a whiskey fury - they may shoot you, but don't let that stop your kicking. Lord knows, it didn't stop mine. Shirts are optional.

Friday: A reading at Audrey's starring Minister Faust and Wayne Arthurson, among others. I've seen them both read - one's a little bit hip hop, the other's a little bit punk motherfucking rock. 7:30 pm at Audreys Books 10702 Jasper Avenue. They're both good guys, good readers, good books - what else do you need? This is the perfect thing to convince your girlfriend that you are culturally adept, and therefore deserving of anal sex.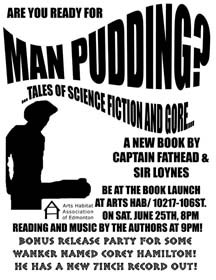 And finally, this Saturday:

Will "Man Pudding" leave you with a bad taste? Watch two Edmonton poets spew their literary goo as Captain Fathead and Sir Loynes (a.k.a. Mark Kozub and Corey Hamilton) unveil their new book Man Pudding:Tales of Science Fiction and Gore. It runs at 8 p.m. at the Arts Habitat, 10217 - 106th Street. Both artists will be performing their works to "the music of Mysterio," a vegetable farmer making a rare public appearance.
The night will also be a release party for Corey Hamilton's new 7-inch record called Here's Lookin' At You. Kozub will be using the night to murder his "Alberta Beatnik" persona. Mike Gravel of The Raving Poets will host. Mingus Tourette may appear clad only in his red balaclava and an embroidered towel that reads 'Murder: Not Just for Americans Anymore'. Or he may be lying comatose under a heavy breasted woman somewhere else. It's tough to predict at this point.




June 20th, 2005
fucktard summer
All weekend I was out hanging with my mother at the acreage while my dad was in kosovo, so we sat around and bullshitted and I read comics and we watched sideways, which taught me that being really drunk is not the way to nail Virginia Madsen, and that the best way to get laid is to write a long, incomprehensible novel. Saturday it pissed rain all day but sunday was hot and the sun made the apple tree shimmer, so we walked around outside and looked at the trees I planted, the two of us with our shorn heads, wondering when the clouds would roll in again.

Later, as I drove home, I wondered about the word fucktard, and why I didn't use it as much as I should. Especially in reference to myself, because sometimes, I am a real fucktard. Mostly, when I am drunk and screaming about the state of the nachos.

which made me think.

This summer, I should get myself a Smartcar, paint it pink, mount a big bison skull on the front hood and drive on down to the Calgary Stampede. I will get myself a big pink cowboy hat, and some shiny black cowBoy boots, and wranglers and a nice cowboy shirt, and a HUGE FUCKOFF BELT BUCKLE that says 'WORLD STEER WRESTLING CHAMPION' with huge metal horns sticking out of it. I will drive around downtown where all the business folks are, with their cowboy hats and sport jackets. And, until I get arrested, or beat up, I will park on the sidewalk, get out of the Smartcar and yell at the biggest fucker I can see - HEY! YOU SMALL DICKED FUCKTARD!!! YOU WANNA DO SOME QUEER WRESTLING?!!!

After some more taunting, when he is coming at me, I will get back in the Smartcar and instead of driving AWAY, I will start driving AT HIM so that he will have an epiphany. He will realize that it is better to lose some face and run away rather than be killed by a man wearing a pink cowboy hat and driving a tiny pink car. Hopefully, while he runs, he will fearfully think of the headline about BIG COWBOY RUN OVER AND KILLED TO DEATH BY LITTLE TINY PINK SMARTCAR. And, until I could see the paradigm shift in his eyes, to a state of newfound respect for all people, I would drive after him until he was panting heavily and sweating through his Lee Jeans and he would have to hold up his hand and beg hoarsely for mercy in front of his wife and his co-workers.

Oh, the shame of that.

Yup. Fucktard nirvana, cummin' atcha this summah.







But What Happened Last Week? By God, Find Out Here!