January 30th, 2007
The Minister's New Bag
Minister Faust's got a new book, From the Notebooks of Doctor Brain and a launch for it this Friday. Looks like double good times.
When: Friday, February 2, at 7:30 pm
Where: Audreys Books, 10702 Jasper Avenue, Edmonton
The book is officially on-sale everywhere as of today. And, it's got some serious reviews from big fat American publications.
PUBLISHERS WEEKLY (STARRED REVIEW): "[S]harp satire of caped crusaders hides a deeper critique of individual treatment versus social injustice.... Faust's well-aimed jabs spare no super sacred cows nor many pop idols and psychobabbling media stars. Underneath the humor, careful readers will find uncomfortable parallels to real-world urban tragedies in the novel's 'July 16 Attacks,' where Faust gives a double meaning to the 'Crisis of Infinite Dearths.'"

BOOKLIST: "[An] excellent superhero comedy as well as an unsettling satire."
ENTERTAINMENT WEEKLY: "Entertaining... saavy."

BOOKPAGE: "[M]ight be one of the most entertaining books to cross your path this year.... Faust is an original writer with a passionate interest in people—be they crazy or "normal"—and his pulpy satire takes accurate swings at our me-first society and the pop culture idols who have floated to the top."
SCIFI.COM: "[Minister Faust's] insane fecundity and jazzy verbal dexterity, his sheer brio and exuberance... reminds me of Ishmael Reed or Steve Aylett... plenty of moments in this novel where I laughed out loud."

---

Speaking of oddly hot sellers; nunt continues to leak persistently out into the world. My publisher's had orders from Ontario, Texas and the UK in the last month. How bizarre is that?
January 19th, 2007
3-Days in February
Big cakes to Brendan Mcleod for winning the International 3-Day Novel Contest. Pretty impressive for a fellow who's also an international slam poetry champ.

Speaking of which. Those lunatics at BookTelevision are putting the thing on tv. Local and national And they have the first 3 minutes on the internet. At the Youtube, or, in better quality, at the BookTelevision.com. Good time madness.




January 10th, 2007
The Great Blizzard of 2007
Djedo was cruelly underfrozen.

He had been promised
minus forties
hundred mile an hour winds
twelve foot snow drifts and
a return to the Imperial Measurement System

by three shivering, homeless Inuit
chattering ominously
about snow days and
thirty car blackice killzones.

not this
poopshute cirrus scattering
of gaslit crystals
dawning on a midnight clear

Why wash the full length longjohns at all?
he thought bitterly, his last dollars spent.
You fucking waste of a weather warning.





January 1st, 2007
annual check up
I spent Boxing Day reading Martin Amis.
In the hospital.

Syphillis, Scabies and now:
Shingles.

Doctor says
stress
tv
moving
audits
government
cops
women
run down

I say
well, it itches, weeps and blisters
and there's a bolt of plasma
that pokes the back of my skull every ninety seconds

but
better chicken pox
than another dose of the loud and crazy

hate
trying to track the dog what bit ya
and barking at those you passed it along.
You know?

You know.

S o. Happy new year, doc
in all
plasma bolts
and all.

Also
i can mix gin with the antivirals, yeah?
Yeah. Naturally.




December 20th, 2006
Merry Nuntmas OH Six
For all the kids out there sweatily awaiting their happy nunt good time this xmas, don't worry: I have the publisher's assurances that it's on its way.

You know who you are. All two of you.

The rest of you will just have to make do with this snappy re-gift.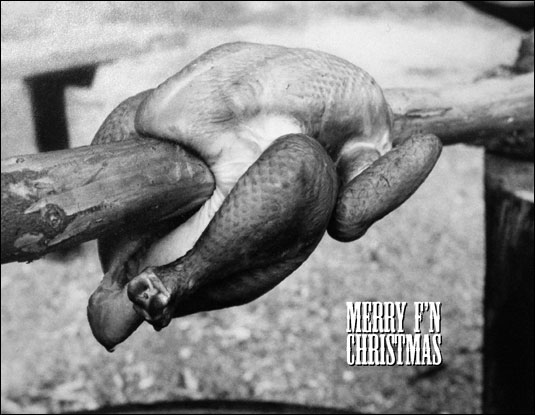 December 5th, 2006
XXXMAS 2 Merry Christmas Falala lala-uckoff
Friday night. I was drinking double Gin and Tonics to chase shots of dark Rum. The next morning I would wake up with a broken thumb and a pocketful of cheap sushi rolls. Neither made much sense. I know that I was working my way into a regular blueglow steamfuck that night, drinking with Victor de Guerre, and spent most of it yelling at him about Hunter Thompson. Because I was reading Hell's Angels, and saying what a good goddamn journalist that bastard was when he was young. I started telling de Guerre that I was going to be a journalist, because that's nothing but words, all day long. And I'd bought another tape recorder to prove it, because that's a journalist's tool. Simple. Catching words. I'd had a deck before, but I smashed it somewhere outside of Nipigon trying to catch the sound of oncoming semi-trailers.

De Guerre thought I was cranked. And I was. He walked away to smoke hand-rolled cinnamon cigarettes. Soon after, I hit that blackglow steamfuck and there isn't much to recall. But, there was a bit of history on that tape recorder. Most of it's illegible. After five or six minutes, it is mostly screaming and bass drum. But apparently, I ran into Trent Wilkie right after de Guerre left. Wilkie's running a show starting this week. That much, with details, I heard about later. So I thought I'd post a transcript, even though the tape is short, stupid, and ultimately, highly unsatisfying. I warn you not to read it for humour. Or insight. As a journalistic experiment, it is a failure. As art, it is a failure. Most of it is barely audible, and a cover band distinctly murders We Are The Champions in the background. As an interview it is a failure. Even as a gonzo interview, it is a failure. As an audio test, literary experiment, poem, or by almost any other measure imaginable, it is a failure.

However, this is a blog, which means that anything written is a success. So. From point of Wilkie's intro, you have it:

---
Wilkie: HEY MING!!! Fuck's up?

Tourette: Fuck's a up with you, queue-boy. S new? Art fucking anything?
Wilkie: oh yeah. We got another show. It's called triple x mass two. Falalalalalalalaluck off.

Tourette: Fuck off to you too.

Wilkie: Ya going to hit me with another zany interview?

Tourette: Yeah. Hey. Right fuck a now. I'm a reporter, see? And now is the hour. OK. What's the f what's the gist? As they say.
Wilkie: The gist....hmmm..(talks rapidly) it's a silly xmas show with swearing and high fivery and random acts of mellow drama...so....i would say it is like mad gab...like, no adjectives or nouns and then someone fills them in...and you get sentences like " John's shoes felt a little too obsequious to fit into his oligarchy."
(pause)
Shit like that.

Tourette: That's not mafucking English. Non sequitur bullshit.
(to a bar employee)
Yeah, one more Lamb's. Or fuck. Two more.

Wilkie: What? That didn't make sense?

Tourette: Non sequitur. In other words,. Yer mastered the art of the non sequitur, and yer now applying it to some kabuki-style drama.
(pause, voice suddenly near microphone)
Is it, as the London critics have said, Beckett-esque?

Wilkie: (excited giggling) Actually, the London critics have called it "As benevolently altruistic as a moderately intelligent foster child on a windless day with a kite." That was the French press that compared our aimless drunken ramblings to Beckett, except he did it on purpose. French...man, they have great matrimonial leniency.
(long pause, giggling)
Tourette, when can I fucking get my goddamn high five?
Tourette: What's the deal with the, the P, the play's Sartre Camus underpinning? Or, am I reading too blugh much into this Christmas skit thing?
(pause)
But really, what does this "falalalalalalalaluck off" mean?
(pause)
Fucking tape recorder.
(long pause, fumbling)
Wilkie. You will get your high five when you pay for the next round of green fairies on ice. When I start hallucinating, you get a skin. Dig?

End of tape segment.

---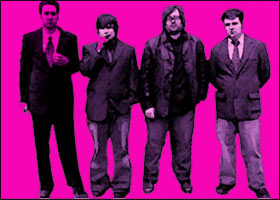 I warned you. Surprisingly, Wilkie really does have a show. He and his Mostly Water Theatre cronies have some funny videos up at their site. Including some skits from last year's show. And here's the info.

XXXmas 2: Falalalala-lala-luck Off
Dec. 7, 8, 9, 14, 15, 16
Planet Ze Design Center - 10055-80 Ave, Edmonton
Cost: $15, $12 Students
8PM every night




December 1st, 2006
Antikythera U235
Gander was a news junkie. He started each day with three newspapers: one New York, one London and one off the Continent. But it wasn't often that he read stories in the news that he had directly impacted. Like the write-ups about the Antikythera Mechanism, or the Russian spy killed with radioactive poison. Frankly, it fascinated him to read the articles, to critique what they got wrong, and marvel that no one had discovered the link between them.






But What Happened Last Month? By God, Find Out Here!