May 13th, 2005
Flashback Numbah 42
The big gala runs tomorrow night. Massive amounts of prize money, sex and respect await the winners. Which reminded me of why I got into this business in the first place:

Tourette Comforts Nervous Bull Market: Still In it For the Money
After the nationally televised fistfight on the David Letterman show, several financial critics, notably at the Washington Post, have begun to question Mingus Tourette's intent, and moreover, his street credit.

As I am afforded a soapbox that most writers don't have, ie. a website that receives 400 000 unique visitors a day, I would like to officially retort to those in the right-leaning media, and especially those in Mr. Bush's 'Swift Boat camp'.

It is obvious that I am into writing for the sole purpose of making money. Though the poetry groupies are great and it's fine to have Evan Solomon hand me packages of uncut opium behind the Gladstone Pub in Toronto, lord knows that I have enough sex with strangers and do enough drugs that I don't need publicists and television personalities trying to get me high. I can handle that by myself, thank you very much. If the 'left hook heard round the world' that I delivered to Al Roker proved anything, I should probably ease off on the pharmaceuticals for a couple of days. But I probably won't.

So to those capitalists who continue to suggest that I am involved in this for 'the love of the game', or worse, 'a humanistic understanding', let me assure you of one thing.

Ming is all about the bling.

As a young entrepeneur in 1992, I surveyed the possible capital ventures that I might engage in, and considered getting in on the ground floor on such opportunities as 'the internet' and 'computer software'. Fortunately for my bankbook, I opted to pursue the far more lucrative path of writing and poetry. And, after a dozen years of relentless work, my net worth exceeds that of Tunisia, Rwanda and Belgium on a good year.

Yes, Bill Gates is still my bitch.

So for all you young business people who are considering tagging their chains to the petroleum industry, computer programming or worse, biomechanical engineering, I have this to say: get into poetry, and get in early. The hours will be long, the strain on your body will be great, but it won't matter, because with persistence and talent, you'll be able to buy a whole new liver, family and circle of friends by the time you're thirty.

Just like me.

So to all the soft-c capitalists who keep trying to take a chip off my mega-brand: why don't you come over to my French-maid staffed 200 foot Victor Class Yacht one of these days and lick the blue chips off my balls while I keep cranking out the thousand dollar haiku you can only dream about.

You know, once in awhile, I sort of wish it wasn't so fucking easy. But then I watch my albino hippos tear apart another endangered black rhino in my Latex Gladiator Pit, and I thank the Lord above that it is.

Amen.




May 12th, 2005
Job Posting
This was released Tuesday by the Mayor's office. Unfortunately, it doesn't sound like the position will be decided in a 'Last Man Standing' bare-knuckle cage match. Instead, it will be based on 'merit'.

---

Edmonton Mayor, Stephen Mandel today sent-out the call to Edmonton writers that the Capital City is searching for its first-ever Poet Laureate.

A Poet Laureate is responsible for reflecting the life of a city by writing and reading poetry to mark and record important civic occasions. In ancient times, the laureate was the central means for recording and communicating history.

"Edmonton's Poet Laureate will create local and national awareness of the literary excellence we have in this city," says the Mayor. "It will further confirm this city's support for the arts in general, and will solidify our reputation as a municipal leader in the arts world."

A jury will review submitted samples of Edmonton poets' published work and announce the poet selected for the position at the Mayor's Evening for the Arts on June 13 at the Winspear Centre.

The jury will include members of the arts and writing community, a member of the public, a representative of the Edmonton Arts Council and two City of Edmonton people – one elected and one non-elected.

The appointed Poet Laureate will serve a two-year term and will receive a $5,000 per year honorarium.

Interested, published Edmonton poets should contact the Edmonton Arts Council for application information.

"Edmonton will be only the seventh jurisdiction in the country to create such a position," adds Mandel. "Our endorsement of the artistic community is part of what makes the Capital City so attractive to citizens and new Edmontonians."

---

The news was immediately greeted by cultural commentators with a Limerick Contest. "Poets" were asked to create a limerick starting with the line "There was a man from Edmonton". And email them to smckeen@thejournal.canwest.com. Seriously. You can win a free lunch. I came up with this little sweetie.

---

There once was a poet from Edmonton.
Who liked to carry an elephant gun.
When you mocked poetry,
he remarked angrily:
DON'T CHEAPEN MY FUCKING ART WITH A LIMERICK YOU FUCKING PRICK.

---

As for the real job, you got to love that Stephen Mandel. Can you imagine how much fun it would be to represent as Poet Laureate of Edmonton? The weekly poems on civic events, the t-shirts, the poetry orgies, the performances at the Winspear center with a three-piece jazz ensemble, the new domain names, the new logo on the side of the ambulance, the diplomatic immunity from police giving tickets for inane by-laws, the hiphop jams, the coat-of-arms, the daily poems from E-Ville poets, the slams, the chalk on the sidewalk, the writing on the walls, the forty-eight hour poetry crawl down Al Purdy street, and school readings, and the tattoos, the wigs, the Cloak of Infinite Verse, the groupies, the political presence, the word on the street... poetry on every motherfucking corner, drilled right up the ass of every oil-sucking blue collar redneck who doesn't know that his useless, tortured existence is a poem - yet.

Goddamnit, that would be sweet.




May 11th, 2005
Big Announcements
Number One: Shelley Rothenburger and Mingus Tourette will be hosting a 'Meet the Artist and Poet' event NEXT FRIDAY, May 20th, at the Fringe Gallery. If you haven't seen their cutting edge multimedia exhibition The Unclean, this would be an excellent chance to see it. The event starts at 6.30 pm and runs until 8.00 pm. Expect a full tilt poetry reading and a Q&A session with the artists.

Also, expect FREE LIQUOR.*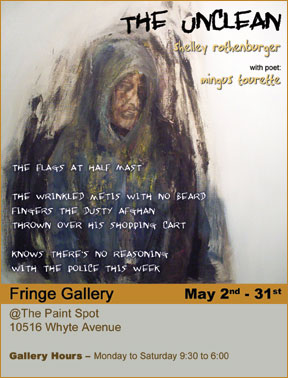 If you missed it: The Unclean art / poetry show is a collection of paintings by artist Shelley Rothenburger, with a series of poems by Mingus Tourette. However, instead of writing these poems in a book, Tourette has handwritten them onto the walls between the paintings. It seems to be cheaper this way. The show is on display until May 31st at the Fringe Gallery, located at 10516 Whyte Avenue. The Gallery is right beside The Paint Spot on Whyte, down from Chapters.

And yes, it's completely free.
Number Two: Mingus Tourette will be appearing at the South Country Fair this summer, as a part of the Lotosland Spoken Word bill. Other poets include Kerry Mulholland, James Dangerous, and Magpie Ulysses. Musical acts include such notables as Carolyn Mark, Captain Tractor and Tippy Agogo. This engagement is exciting because it's a major fair with big crowds, and it's not often that Mingus Tourette is allowed to detonate in front of 3000 people at the same time.

Number Three: The Poetry Award announcement is this Saturday. I'm sure I'll lose (according to Mingus Tourette's Rule of Fourth, or in this case, Rule of the RunnerUp), but it will be interesting to show up at the black tie gala and rub elbows with the province's literati. Much debate has raged about what Mingus should wear. Suggestions have been so beautiful, I have made a list, which I now declare a poem:

Mingue Couture

At least when I lose
I am well dressed
in my thoughts

Surrounded by black ties
and prom dresses

I hit the runway wearing
The gasmask and the Kangaroo gun, slung over my shoulder.
With a satchel full of fear.
Droog eye makeup under a German Storm Trooper helmet.

A Cock ring.
I hope to use.
Properly.

A watermelon I named Tolstoy's Flower
fitted tightly over my Nixon mask.

A Versace meat suit.
Sexy-like.
Black Cossack boots
Rose-tinted sunglasses with circular lenses
a Full-length grey fox fur coat

and a big fuck-off gold-nugget ring I could
knock out any future poet laureate with

including myself
depending on the price of Gin in E-Ville
Number Four: And finally... the rumours are true. RickStag 2005 is in the works. Prepare yourself for mayhem on a level previously unimagine, and get ahold of this three point tagline:

RICKSTAG 2005 - More Vikings. More Liquor. More Shitheadery.




May 10th, 2005
Unclean 15
the hard logic
before pulling the trigger
if I'm eating mustard sandwiches
what's the dog going to eat?


---

So many announcements, but of course, the BIG question is: what will Mingus Tourette wear to the Alberta Book Awards Gala this Saturday night? Pink Tuxedo? Full suit, with just a flourish - the pink tie? Nothing? Assless chaps? A nun's habit? A bride's dress? A clown suit?

Good lord, the excitement.
May 9th, 2005
Unclean 48
T-Paul quit firing drugs eight years ago
but this short brown guy
on Hastings
who is missing three teeth
is strung out as we speak
they talk about how
getting off the street
was good for T
but wouldn't be good for the junkie
can't leave his community
his family
though his Mom is proud that he's using some methadone
and only burning a hundred bucks a day on the rest
and then the joke
how heroin is better because it lasts all afternoon
and crack lasts what
ten minutes?
They say it at the same time
and laugh

But What Happened Last Week? By God, Find Out Here!