September 19th, 2004
That's What I'm Talking About
The Republican incumbent, eager to show a compassionate face to Florida communities hard-hit by three hurricanes in just over a month, toured storm-blasted neighborhoods near the Florida Panhandle city of Pensacola then flew by helicopter to nearby Orange Beach, Alabama.

A pained-looking Bush hugged and kissed a tearful Karen Heinhold in the shattered Pensacola area beachfront community of South Wind, which was swept with a wall of water.

"We lost everything," she told the president in front of a housing site where only a white front door now stood propped up with wooden beams. Her husband Jim stood nearby clutching an American flag.

In the same community, a woman held a makeshift sign that said: "George Bush 2004, You Have Our Vote." - Reuters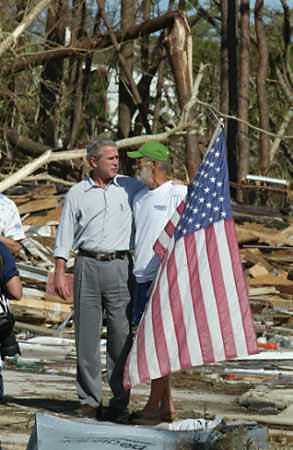 As much as I hate putting Bush's photo on my site, I think it is an important thing to do at this point, in the context of my last entry about the impact Ivan could have on the American election. Watch for more of this sort of thing in the near future, and realize that this is propaganda at it's very Dr. Joseph Goebbels' best. Examine the photo right.

Note the gruff looking fellow and his shattered home. Note George W. with his arm slung around him like they were old college roommates. And most importantly, note the somewhat faded American flag.

Ask yourself, why the fuck is there an American flag in this photo of an apparent moment of spontaneous compassion?

Why? 'Cause Karl Rove made damn sure that someone is around to set-dress every photograph that comes out of Florida over the next few days. 'Cause the only thing better than a beatific-looking Bush mourning with his fellow man, is a beatific-looking Bush doing so with an American flag.

If you Americans vote for this fellah because of kind of proganda, you are falling for the same kind of game the original Propaganda Minister ran back in the 30's and 40's for his beloved Fuhrer. Remember; Bush invaded a sovereign nation for a reason that was overwhelmingly false, started a war that has cost over a thousand American lives, killed over 10 000 Iraqi civilians and turned a majority of world opinion against the United States. But half of the American population is still thinking of voting for him.

Reminds me of a quote about Dr. Joseph Goebbels.

[Goebbels] was able, until the very last minute, to encourage and exploit a blind trust in Hitler and his genius. It is indeed one of the macabre phenomena of the Third Reich that even in their country's agony the mass of the German people remained docile and faithful to Hitler's banner ... In spite of everything they had experienced, they kept the faith. - German historian Helmut Heiber




September 17th, 2004
How Hurricane Ivan Just Changed the World
President Bush just signed disaster declarations for the states of Mississippi, Alabama and Louisiana and was awaiting paperwork from Florida. - CBC

More than 700,000 people in four U.S. states were without power after Ivan made landfall near Mobile, Ala., early Thursday morning. - CBC

Florida suffered billions of dollars in property damage, adding to the damage caused earlier by hurricanes Frances and Charley. - CBC

About 20 deaths are being blamed on Ivan, most of them in Florida. - CBC

Congress approved a $2 billion emergency appropriation by President Bush to help finance FEMA. That will have to be supplemented with an additional $2 billion, Hernandez said. - The News Press

In a change of weekend plans, Bush will skip a NASCAR race and a separate campaign appearance in New Hampshire on Sunday and fly to Alabama and Florida to inspect hurricane damage, said White House press secretary Scott McClellan. Bush plans to return to New Hampshire to make up the campaign event in Derry.

Bush spoke to his brother, Florida Gov. Jeb Bush, and to Alabama Gov. Bob Riley by phone from his bus while he was campaigning in Minnesota. The president made three trips to politically important Florida to comfort residents after earlier storms. - Guardian.

Floridians were promised all but a blank check for disaster relief last week by President Bush, with more to come.

But Florida's strategic importance in the presidential election has at least something to do with what is an extraordinary outpouring of government generosity, disaster experts said last week.

"It's part of the election process," said Stanley Changnon, a disaster specialist at the University of Illinois.

All politics may well be local, but almost half of all disaster assistance is political, concluded two economists in a paper published last year.

"Florida is a politically important state," noted Russell Sobel of West Virginia University, coauthor of the paper. He said he was not surprised to see it getting this kind of attention.

According to Sobel and Tom Garrett, a Federal Reserve economist, almost as often as not politics has a hand in who gets that assistance.

"States politically important to the president have a higher rate of disaster declaration by the president, and disaster expenditures are higher in states having congressional representation on FEMA oversight committees," their paper concluded. Mercury News

--- --- ---

In the aftermath of Ivan, Bush becomes an immediate hero in Florida, Mississippi, Alabama and Louisiana. He is all over the cameras during the next week, inspecting damage, vowing to fight for more money for relief, feeling their pain. He gets those people lots of money, lots of aid, lots of concern, and they all vote for him because he rode to their rescue. He can't lose in those states now. The democrats can't do a thing - they can't oppose it.

There could not be better timing for Bush. These disaster declarations are a free, three billion dollar ad campaign in one of the states he needs most, and it is the best kind of campaign - showing off a tough, caring hero who just wants to help the people. The only thing better would be a major earthquake in California, so Bush could frown with concern while standing beside Governor Schwarzenneger.

Right now, Bush is thanking God for natural disasters. 'Cause Hurricane Ivan may have just won him the election. Good-bye civil liberties, hello Ministry of Information. Hello terror. Hello Christianity. Good-bye Iran. Good-bye Syria. Hello NuKular proliferation.

So if I can say one thing to the Americans about this whole hurricane - it is a terrible disaster, but please don't let Bush buy your vote. One politically motivated month of extreme generosity shouldn't make you forget that the man is a dangerous, thick-skulled, religious liar who is really turning the planet into a polarized and violent place. Don't forget that Iraq really is a quagmire, possibly on its way to civil war, and don't forget, as Kerry said today, Bush is living in a fantasy world on Iraq.

Four more years? Good morning, Vietnam.




September 16th, 2004
Tento, Autumn Revisited
I.
on her balcony
watching the seasons change
still naked - nameless

II.
smoking cigarettes
warding off autumn devils
mara mer la vie

III.
evening lights
trickle upwards - fingering
a purple sky

IV.
she was twenty-six
and ready to die - seen too much
she said, drinking

V.
high bush cranberries
shrivelling between
yellow leaves

VI.
the equinox
somewhere between day and night
summer and death

*Excerpted from Tento Yuriko's 'Melting Sun' journals, this short series of autumn haiku were written within a couple days of each other. They seemed fitting, as the leaves start to yellow. I found some humour in these, particularly number III. And it's odd how much number IV mirrors an incident in my own life. I wonder if it was mentioned to him, somehow, or if he had his own, parallel experience. Strange.




September 15th, 2004
The Last Hockey Game Ever
Our national identity is intact.

Wayne must have been beaming last night when his man Shane Doan scored the winning goal to push us over the top to win the World Cup o' Hockey. And he probably nodded sagely when Vinny Lecavalier took the MVP honours. And looked at all his picks, from Lemieux to Smytty to Thornton to Luongo to Bouwmeester and thought, in one word - perfect. Cause it doesn't get much better than 6 and 0, not after the Salt Lake medal and a couple world championships. Yup, Wayne knows his hockey meat. And if he wanted to be prime minister of Canada right now, we'd take him.

A nice way to go out, I suppose. Cause that may be the last game for a long, long time. It may be Mario's last game ever. Will he be ready to pull the skates back on in 2006, after 18 months off, after another thirty pounds slide back on? To play for one of the worst teams in the NHL, if they're still around? I doubt it. It will be a different league. There will probably be no more Yzerman, Chelios or Messier. And perhaps no more Pittsburgh. That is, if the league stays intact.

Let's hope that this thing can be resolved quickly, that I don't have to watch Trevor Linden's dour face pronounce the death of a season in six months, and wonder if it'll ever come back. 'Cause without hockey, there isn't much difference between us and those crazy fuckers south of the border, is there? And I don't want none of that action. This is a country with 'The Hockey Sweater' stencilled on its five dollar bill, and without the regular Oiler mid-season bed-shitting, what else will there be to talk about? Fellahs, please - figure it out sooner, not later. 'Cause I don't want to watch Swedish hockey, or OHL, or even the Roadrunners. I just want the best mullets in the world, strapping on the foil, taking one for the team, losing teeth, all in one 82-game league. So come on fuckers - the national character is at stake. Get it together.




September 14th, 2004
Not Quite The Globe & Mail
News Flash: Sweaty Charles proclaims Nunt "The feel good book of the year."

Of course, Sweaty Charles' idea of a good time is slathering himself in butter, wrapping himself in tinfoil, and wrestling with a German daschund in a 12-foot rubber wading pool. The last time I saw him, he was paddling down the North Saskatchewan in a birch-bark canoe, dodging ice floes, dressed in full preacher garb, and rattling his bible at the police helicopter as it circled overhead.

We're just glad to see that he's using his day passes to support Canadian Literature. We're also glad that when the nasty reviews come from middle aged-feminists and English Lit majors who fail to read the foreword, we'll have someone who will be more than willing to debate the finer points of the book with them over a couple of smashed-in beer bottles and some rubber hose.

I say, old chaps. If you've never seen Sweaty Charles fight three men in a back-alley armed with nothing more than a pair of cut-off jeans, spandex bike shorts and a three foot length of garden hose, you've missed a thing of beauty. I would compare it to the elegance of a Yuen Wo Ping choreographed Wing Chun battle, but I would be lying. It's more like the carnage that passes when an enraged hippo tears apart a pack of hyenas in the African night. Such natural savagery can take one's breath away.

Yet, for all the inherent violence within Sweaty, there is gentleness. I'll never forget the time in '98, when breastfish was still just a hopeful monster, that he asked me to help him write a haiku to tattoo on his back. He had been hurt, badly, and I am reminded of it at this time of year. He told me about it in great detail one evening, and together we put his pain into as few words as we could. And he had it inked onto his skin, in large, kanji-influenced letters, so that he would never forget:

deep wounds
from a Japanese winter
still ache in the cold

Yes, Sweaty. The ghosts of Nagano still haunt us all. So I pray, to Lemieux, Sakic, and the children of the great one, make tonight your night. Demolish the Finns, or Sweaty Charles will weep once more, bitter tears remembered.

Peace, blessed nation.




September 13th, 2004
Now Available...
After more extensive beta testing which involved purchasing my own book from my publisher at least three times, the e-commerce system is up and running. So if you've been wondering when the heck you would be able to get a copy, because you lost your PayPal password three years ago, you can now buy Nunt direct. No Amazon, no Paypal, nothing but straight credit card transactions that result in a book delivered to your doorstep real quick. And it's all completely secure and legit, thanks to the fine folks at 2checkout.com.

In fact, I highly recommend buying via the credit card. Amazon is nice, but they take a 55% cut of the action. 2Checkout takes 5.5%. Note the decimal place.

This might not seem exciting, but seeing as it has taken us many months to get this figured out, it is quite exciting to us. And seeing as a user recently pointed out that there was exactly one tiny text link on this site directing people how to preorder, it seemed high time to get our shit tightened up. And seeing as the tour kicks off in three weeks, there is no time left for shit tightening.

So, if you want to buy a copy of Nunt, then you can click here to do so. If you want your copy signed, flip me an email, and I'll make sure to write you a lovely, personal note.

If you're still unsure about the whole thing, and you need more convincing that you have to have one of these for your coffee table, you are in luck. We just added a batch of new excerpts, including Marvin Gander's beautiful foreword, which tells the backstory about me and Nat and the two year blitzkrieg that inspired the book.

Good times.







Click For Previous Week's Daily Mingii