April 15th, 2005
Hippo Revisionism Part One:
Ten Basic Things You Need to Know about Hippos
1. Hippos have featured in human affairs since the days of the Pharoahs, when they were venerated as Gods.

2. A million years ago, a couple of species of Hippos lived in Britain. Eight species lived in Africa.

3. Today, only two hippo species are still extant: The Common Hippopotamus (Hippopotamus amphibius) and the Pygmy Hippopotamus ( Hexaprotodon liberiensis). Neither one lives in Britain.

4. The name Hippopotamus means 'river horse'. It comes from the Greek hippos - horse - and potamus - river.

5. The Hippo spends most of his or her day in the water, but rarely feeds on aquatic vegetation.

6. The Hippo is a nocturnal grazer, arising from the river to feed on land, often several kilometres from the river. The Hippo grazes alone.

7. The Hippo, despite its short legs, can run at fast speed on land. A human cannot outrun a Hippo in an aggressive mood.

8. Despite its plump appearance, the hippo has only a thin layer of subcutaneous fat.

9. Hippos are long lived. The can reach forty years of age.

10. Occasionally, a young male Hippo will challenge a reigning bull, and if the animals are well matched, an ultraviolent battle ensues, during which extensive injuries may be inflicted by the enormous canine teeth. This often leads to the death of the defeated animal.

The canine teeth are the Hippo's primary weapon. If you ever see them displayed when the animal is 'yawning', you are in trouble. The Hippo is not really tired. Nor is he bored. He is warning you that he is angry, and he is considering your dismemberment.

* Thanks to the Hippo book for all these great facts!





April 14th, 2005
Roast Kraken: A Scene
Morrie has signed himself on as producer and co-writer of Roast Kraken. I find this amusing, because the only thing Morrie can write is his own name. He doesn't 'do' email and he doesn't own a pen, but he just went out and bought himself some $300 screenwriting software that comes pre-equipped with 'genre characters'.

To demonstrate his craft, he sent me a copy of an 'early scene' in the movie, which he says 'foreshadows' the later violence, some of which naturally involves an American nuclear submarine and the Empire State Building. He would like some feedback, and even 'criticism'. What can I say?

--- --- ---

EXT. - NIGHT - ROWBOAT

Two teenagers kiss in a row boat. They are listening to AVRIL LAVIGNE.

The water begins to BOIL.

ENORMOUS BLACK TENTACLES rise out of the water.

The TENTACLES reach into the boat, grazing the teenagers. One TENTACLE TEAR'S OFF THE GIRLS SHIRT, and SHE stands up SCREAMING. She is WET from the SPLASHING WATER.

The YOUNG MAN stands up, but as we all know (!), we should never stand up in small boat. THE SECOND TENTACLE wraps around his head and lifts him into the air as though he has been ABJUCTED. (We DO NOT SEE HIM AGAIN)

THE GIRL SCREAMS AGAIN. SHE is fully EXPOSED. She looks at the tentacles in horror and trips as SHE TRIES TO RUN AWAY.

The TENTACLE SLOWLY MOVES TOWARDS HER. She crawls backwards on her back, TRYING TO GET AWAY. Soon, she reaches the end of the boat.

She TRIES TO GET AWAY BUT THERE IS NOWHERE TO GO BECAUSE SHE IS AT THE END OF THE BOAT. In horror, she looks over the side of the boat. She looks down into the ocean AND ALL SHE SEES THE BIG BLACK EYE OF DEATH (the KRAKEN's EYE).

It BLINKS once, and then the TENTACLE RISES UP AND SMASHES THE BOAT TO PIECES. The GIRL FLIES TOWARDS THE CAMERA, SCREAMING.

DIP TO BLACK

--- --- ---

Umm, any thoughts on how to reply to this?





April 13th, 2005
Pubic Sermon Announcement
Local madman Trent Wilkie is producing another fine sketch comedy show, which the National Post recently called 'a groundbreaking art fusion project, the likes of which haven't been seen since Basquiat danced with Baryshnikov'. We expect it will be funny, and also laced with an underlying pathos, as his house just burnt down. Should make for some truly bitter-sweet moments.

Mostly Water Theatre Presents: ART SHOW
April 12 to 16, 2005

Want to laugh? Looking for a good time? Interested in drinking beer?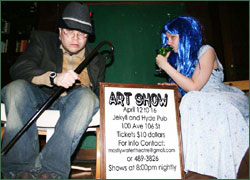 Then join us at the Jekyll and Hyde Pub for ART SHOW !
Mostly Water Theatre specializes in FUNNY! From the creators of "Maturity" and "Corey Country", comes another gallery of sketch comedy, sure to make you laugh your ass off!
Co-Star and Writer Trent Wilkie calls it "the refined comedic science of artistic expression."
What does that mean, you say? Who the hell knows. You'll have to join us to find out.
Also starring Corey Taylor - our 'curator' for the evening, and Liz Ludwig, previously known as "The New Guy."
Mostly Water Theatre highly encourages you to support fresh, funny, eye-opening local theatre - and spend less than you would on a crappy movie!

ART SHOW
April 12 to 16
The Jekyll & Hyde Pub
106 Street and 100 Ave
Doors Open at 8 PM
Tickets $10 at the Door
For Info: 489-3826
mostlywatertheatre@gmail.com
--
Mostly Water Theatre
Focus. Integrity. Just like fire.





April 12th, 2005
the time it takes
Poetry Month continues. The sex with groupies has been fantastic, and nearly limitless. At some point, I may require intravenous fluids just to stay awake.

Morrie recommended that I introduce another poem to cement 'my readership base'. I recommended that he shove his iMac up his ass. Later, when the tequila wore off, I suggested introducing Jordan Fry. I thought this would be a good idea because I once threw a postcard at him during a reading in Montreal and hit a small Chinese girl in the head by accident. It didn't stop me from laughing, and he was happy to have things thrown at him.

I highly suggest reading this one aloud. At work. Go on - have some nuts. It's art, for fuck's sake. Lean over your co-worker's desk and whisper this in their ear.


the time it takes
by Jordan Fry


she asks: when do you masturbate?

when the urge comes round
when i wake up
or go to bed
in the morning
or noon, often night
on my way to work at four in the afternoon when the traffic's real
bad and im staling in a line of dumb fucking american tourists with
their "live free or die" license plates and shit for brains driving
abilities, leaving me stranded in the 30 plus scorcher of a day,
sweating my bag off needing to release myself in a flurry of mass
execution for my pleasure stuck to my steering wheel while i watch
a bee fuck the flower (that flower, right there, with the pink bulb
and protruding shaft) while i watch that bee fuck that flower faster
than the pile-up of cars is moving and im already late for work

oh, and in the shower
always in the shower.
--- --- ---

Yes, Jordan is the maniac behind Grey Borders, Cubicle Press and the Niagara Poetry Revolution. You can buy many of his hot chapbooks at www.greyborders.com. They are recommended. He has been known to trade books for panties, so ladies, clean out your drawers and support the poet.




April 11th, 2005
Man In a Black Coat
Poetry Month continues. The money pours in at an astounding rate.

As such, we are proud to present a poem from Toronto poet, Alex Boyd. It is from his book Brick and Bone, which is definitely worth the eight bucks.

Alex was kind enough to describe the day he wrote the poem for the Daily Mingus, which I have included at the end. Enjoy.

MAN IN A BLACK COAT
by Alex Boyd

No longer just a home for seals or stage for birds,
the sea wakes up, lifts white hands and shatters
its own stretching fingers against the stone
harbour walls that circle little fishing boats.
Sailors had special words for certain things
to step carefully around bad luck - you didn't say
minister, you said man in a black coat.
Ninety years ago, here in Arbroath, Scotland,
my Nana was born - and in the twenty six years
I'd know her I would never ask her about it.
Three hundred years ago, the sea beat the harbour,
carried great horns of wind that tore it apart.
It was just yesterday to the sea, the last time
it noticed this pretty little town, and at the same
time, remembered every wave is a muscle.
Now I stand in my own beginning, the spot on the map
where the line begins, and maybe for the first time
this place sees me too, the air forced around me.
If only I could know how it judges me,
not so much the town but that one great body - the sea.
--- --- ---

This was actually written in the coastal town of Arbroath, Scotland where my grandmother was born. The harbour had what almost looked like a short castle wall, and the day we arrived the waves were breaking and landing four or five feet over those walls. Children shot back and forth on bikes through the deep brownish water beneath signs that warned you to hang around - at your own risk.

--- --- ---

You can read more poems at alexboyd.com and Brick and Bone is available through believe your own press. It's really good! Buy it!