June 28th, 2006
A Good Review
A good review of the Rasp and the Wine is at the Roar site. By Festival Director Thomas Trofimuk, no less.

If you missed it, you really did. Lorca. cummings. Poe. Fucking fantastic stuff.




June 21st, 2006
Dogs and the Forest
I read The Hound of the Baskervilles last month, and through blind luck, followed it up with The Curious Incident of the Dog in the Night Time. They are intrinsically linked. If you know what I mean, you know what I mean. To me, it was a sign.

That, plus the Oiler's loss, exciting play reviews and an upcoming reading where I'm supposed to channel John Newlove have convinced me to go to ground. I am going to the forest for five days. To think and read and drink and write and try to figure out what the fuck. To do next. It's been a couple of good years in some ways, but real fucking disillusioning in others. Anyhow, if you're trying to get ahold of me, you can't. Till next week, sometime. At the rasp and wine.

Good night.




June 21st, 2006
The Rasp and the Wine - Dead Poets Version
SIX EDMONTON POETS RAISE THE DEAD (AND THE NEAR DEAD)
(Edmonton, AB, June 9, 2006) What if Federico Garcia Lorca, e.e. cummings, Gwendolyn MacEwan, and few other poetic luminaries met at a bar in Edmonton for one night?
On June 27, 2006 at The Underdog (10425 Whyte Ave), 7:30pm, six Edmonton poets will answer that question at an event called The Rasp and the Wine: Cover Version. "It's not exactly a 'dead poets' reading, because not all the poets represented are dead," says Michael Gravel, event director. "It'll be the literary equivalent of a bunch of musicians jamming on their favorite songs. There will be some famous poetry kicked out alongside some more obscure work. I think it's gonna be a blast."
Six sensational Edmonton poets and performers - Mingus Tourette, Gail Sidonie Sobat, Kath MacLean, Jadon Rempel, Shima Robinson, and Timothy J. Anderson - will assemble at The Underdog on June 27th to belt out killer verse from some of the giants of poetry (dead and not-so-dead): International greats like Federico Garcia Lorca and e.e. cummings will be resurrected and danced around the bar. Canadian legends such as John Newlove and Gwendolyn MacEwan will get their choice of cocktail and their
due time at the mic.
A five reader open mic segment will follow the featured readers. Sign up at the event - first come, first served.
Visit www.theraspandthewine.com for complete details.
The Rasp and the Wine: Cover Version
"Six Edmonton Poets Raising the Dead"
Tuesday, June 27, 2006 - 7:30pm
The Underdog (beneath the Black Dog)
10425 - 82 Avenue, Edmonton.




June 19th, 2006
The Final Game
This Sunday, every man in E-Ville imagines being Coach MacTavish and making that final speech right before the Oil take the ice for the last time this season. They make the speech in the shower, on the balcony, while mowing the lawn. While making love to their plump wives, shivers on their arms as the roaring of the Hurricane crowd rattles the benches. I've heard it several times today. In many languages.

Well boys, what can you say? This has been a long and heartless road, and I'm prouder of you than any team I've ever played with. We were counted out before we started. Even after we beat good men. After we beat real winners. When we were down. After we lost our backstop, our spine. But we never quit. You never quit. And that's why we're here. We deserve to be here. We deserve to own this thing.

You heard them on Saturday night. They want the cup. They want it so fucking bad. Just as bad as you want it. But only you can bring it home to them. Don't leave them to mutter Canuck platitudes about the good run. Give them the glory, too.

Remember, in sixty minutes, it is ours. Leave it all out there, just like you have the last two games. Dominate, like you know how. Keep that same head's up play going. Wire it at that wilting man between you. He knows he is beaten.

Punish.

Remember, that is your puck. Not theirs. When they try to take it from you, you tell them without speaking: We are married, she and I, so don't you ever touch my fucking queen. And then put it home, in the silver twine.

This moment is your character. You've faced it twice. Face it a third time, and cover yourself in glory.

And so on. What would you add? No matter—we all spoke it. We know it. We can't say it to the boys, but it's there. One more night, fellahs. We're there with ya.




June 15th, 2006
The Bulldog Opus
I believe that Fernando Pisani will never have to buy another drink again in this city. Or another meal. Or a car, at this point. 'Cause that goal is going to linger for years.

Actually, they say it was the first overtime, shorthanded goal in Stanley Cup Final history. And the first overtime, shorthanded goal that staved off elimination for a team in any Playoff round.

Who didn't scream? Truly?

The NHL Version | CBC Version

Yeah, let the honking begin, baby. This sure as fuck ain't over yet.




June 6th, 2006
A City Holds its Face in its Hands
When Roloson went down, the three of us in Unkle Pat's living room stopped breathing. When MacT was forced to put Conklin in net, we each of us dropped our heads to our hands. Watched the ref McGoo laugh and wish the kid luck, and we hoped silently that Staios' last minute jarhead talk would make him huge. But it's been three months since the kid's been in a game. Let alone a Stanley Cup Final. The nerves showed, and Brind'Amour is hard for that ring. Now either Conklin or Markkanen will have to backstop the Oil to the Cup. Two goalies who couldn't hold down the starting position when it was handed to them on golden picnic plates. Such is the state of the evening.

It rained earlier tonight. Clouds still block the evening sun. And the men in the city stare at each other in disbelief. We didn't want to come this far to fight the last battle naked. But that's what's going to happen. A tough turn for the faithful. Can we rise above even this, they cry? Near the river, the women draw long, bitter tears.

---

Only two showings of Postcards from Hell left:

Wednesday June 7 – 8:00pm
Sunday June 11 – 7:30pm
@ The Azimuth Theatre
11315 106 Ave

The first two performances, offhand, were fantastic. Charles Netto and crew hammered it. And thanks to all the poets for coming out to the shows.

Looking for another NextFest pick? I'd bet on Mostly Water Theatre's Science of Funny. It has two things I like: Hippos and Funny Men.




June 1st, 2006
Postcards from Hell - Two Photos from the Dress Rehearsal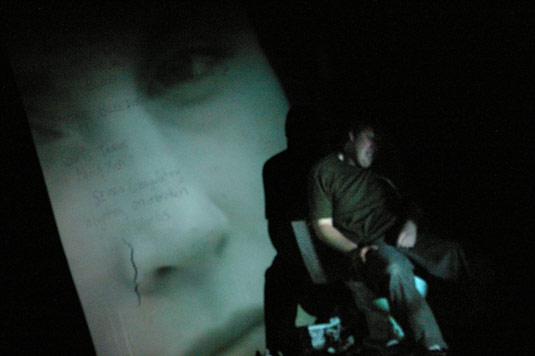 But What Happened Last Month? By God, Find Out Here!