July 31, 2004
Saturday Special Edition
For those who live in the Boiler Room or Cowtown, pick up yer favourite CanWest paper and look for a photo of a man wielding an African shotgun. In the Journal, Mingus is featured on page 8 of ed magazine. In the Herald, Mingus is apparently front page of the books and arts section. The article starts off something like this:

Writer wields pen like a weapon
By Misty Harris
CanWest News Service
July 31, 2004
Mingus Tourette may be the most exhilarating voice to emerge on the Canadian
poetry scene in decades.
The 29-year-old Edmonton poet wields his pen like a weapon in verse after
unrepentant verse in his new book, Nunt -- a collection he hopes people will
care enough about to bronze or burn someday...

Yup. Very exciting. More on all this later.




July 30, 2004
Imagine That!
Sounds like John Kerry delivered the goods after a long foreplay session by Bubba, Jimmy Carter, Gore and Edwards. And it sounds like he wants to make America respected in the world again. Shocking. I don't know how people are honestly thinking of voting for Bush, unless they are blinded by their own zealotry and don't believe that Kerry is quite religious enough. Or that he'll let them gay folk marry. God Forbid!

I particularly liked to hear these bon mots:

"I will bring back this nation's time-honored tradition: The United States of America never goes to war because we want to, we only go to war because we have to."
" We need to be looked up to and not just feared."
"I will never be a commander in chief who misleads us into war."

"Before you go to battle, you have to look a parent in the eye and truthfully say, 'I tried everything possible to avoid sending your son or daughter into harm's way, but we had no choice'." - John Kerry, msn

In other, similarly important news, we hit double digit entries in the Summer Tournament of MegaEvil, and the entries are spectacular. Check them out, and make sure you leave a comment! These artists need some love.

And, with great excitement, I should mention for the benefit of the local constabulary, that the Edmonton Journal will be running a hot hot article on Mingus Tourette and his quest to take poetry to the masses on Saturday. Make sure to spend yer buck and send the article to your local Member of Parliament when you're done with it. The world must know what injustice is done to poetry in this country.

Now admire those MegaEvil Entries! Like this, our latest entry, from America!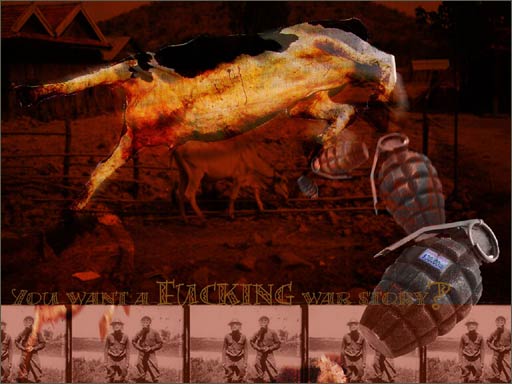 July 29, 2004
Kaboom
A suicide car bomb exploded outside a police recruiting center in central Baqouba on Wednesday, killing 68 Iraqis and turning the city's busy streets into a bloody tangle of twisted metal and bodies. - IHT.com

It's easy to forget there is still a war going on in Iraq. It is easy to overreach with anger and strike apathy, once anger is proved impotent, too many times. However, Bush is still out there pretending he's tough on terror, no matter what Dick Clarke says about how he fucked up in blistering, undeniable fashion and it is tough to let that anger simmer.

Easy to miss, too, the degree to which the Democrats have gelled and put forth a multi-layered positive message to convince Americans that John Kerry, a Vietnam vet, could actually be tough on terrorists AND intelligent.

The American election is not so far away. Can the Americans really be so easily mislead? Can a populace really be so stupid? How can they even consider re-electing the golfer? But the blinders stay on, and the south is polarized and the fireworks fly and the band plays on and the race is even.

Fear. Makes me want to drink.




July 28, 2004
MegaEvil: The Musical
For some reason, possibly the manic persistence of the Nunt publicity department, the Summer Tournament of MegaEvil has caught fire in the online community, and we have received a veritable deluge of entries. We have posted up six of our hottest entries so far, and they are hot! Check them out!

And when you do check them out, please make sure to post a little comment at the bottom, where it currently says 'o comments', and urge our competitors on to new heights. Remember, everyone is allowed up to three entries, and it's all anonymous, so three entries does not split the voting, like being nominated for two oscars in the same year. The more entries you have, the better your chance of winning Il Duce! And if you haven't entered yet, what are you doing with your life? Remember the prize! Russian literature, American whiskey and Doc Johnson's 12-inch double ended dildo, known as Il Duce. Like new!!

For your preview pleasure, I give you an example of an artist's interpretation of Nunto 35. Make sure to check out the rest!!!!! And leave compliments!!! These artists are sensitive and like to have their egos softly stroked like a hairless cat!!!! Enjoy!!!
- The Publicity Department
"Quite willing to trade national exposure for six nights of seedy pleasure in a motel of your choosing!™"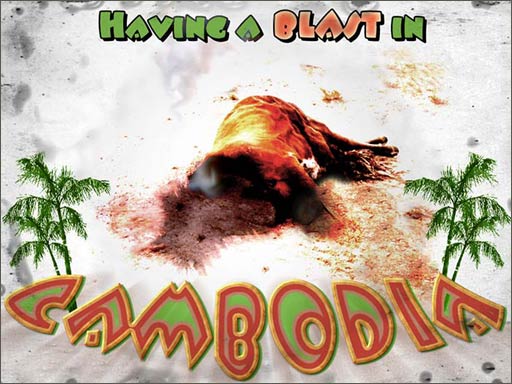 July 27, 2004
To The East
it is after midnight when I pick up the buddha from her work. she is tired and a bit teary-eyed from saying goodbye to her work friends, but she is ready to go, and says that she is ready to make her journey to the east.

and I laugh at that a bit and ask her if she has ever read Hermann Hesse, because he dedicated books to the journeyers to the east, and she peers at me oddly to say that she doesn't know who Hermann is, which is sad, because everyone should read Siddartha and meditate on it, especially a girl called buddha

but maybe she doesn't have to read it because she already knows the value of nothing. she tells me this when she is naked and says that what we have is nothing, lying in the dark with only sweat between us. she says so with the same tears in her eyes, hours after she has said goodbye to old women and underage boys who sling grease all day. and as I lick that grease clean from her, I feel tears burning up in my eyes too, because she will be gone and i will be left to understand nothing on my own

and it is hard to understand nothing by yourself, because nothing is all-consuming, and understanding nothing with someone else is easier, even if it is just midnights with a strange man who talks about dead german writers, or a young eastern girl who talks about her sister who is ill and who lives near the ocean, a girl who only cares about the shiver up her spine when my tongue plunges in for the last time, who understands that animals gripping each other under a clouded night sky is everything, even if it is just for a short while, because nothing is worse than understanding nothing alone.

when I tell her all that, she tells me to stop talking and grabs me and pulls me on top of her and we fill each other all night and when the sky starts to light up, we take a bath together and fall into a stupour, her in my arms, and we wake up cold and drunk, the water covered with a skim of animal grease.

and i take her home where she will get ready for her journey and she smiles as she turns away, if for nothing else, because sometimes it is good to smile at the void.




July 26, 2004
Thirty-Seven Point Itemized List
After firing up another last smoke and watching the sky wrap itself inside-out with lightning and grey rain, I received a call from my publisher. It was late Sunday night, and it was about the fifteenth time we'd talked that weekend. He was calling to update the list and discuss what could be put off another day or two, considering that we would have to sleep at some point.

We made the list on Friday night, during our summit. It covered the thirty-seven points-of-action we HAD to get done this weekend. After counting the checkmarks on Sunday night, we took stock. We had completed twenty of the items. Seventeen remained, even though neither of us had drank, smoked weed or even masturbated much. I didn't bother to tell him that I'd spent the late shift on Saturday night saying farewell to the Buddha, because it was after midnight and therefore, off the clock.

"It's not bad," I said. "Over half the list."

"Not bad. But these were things we had to get done THIS weekend," he said. " It doesn't cover what has to get done next weekend. We are still so far behind..."

I shook my head. Neurotic fucker, my publisher. And anal, too. He's going to drive us all into the ground.

There were some bright spots, I pointed out. We've essentially decided on the van for the tour, hoping that if we build it, poets will get on board. The VP and I had a helluva time laughing about how to trick that fucker out, with speakers and flags and a wet bar. And we received mention of an excellent article that may or may not have run on the CanWest News service this weekend. And we did get a lot of work done, promotional and admin back-end work that has been hanging over our heads for months.

And what's more, we got our first contest entry up for display, with the promise of many more to come. As it is, the entrant is an American, which is somewhat amusing, as he's been surviving down there for a long time without my survival kit.

If no Canadian enters though, I will be hugely disappointed in our nation. I can't believe there isn't somebody in this country who wants to win a double pronged love-missile named Il Duce. And if there isn't, then I'm going to have to seriously consider moving to a country where this sort of prize would be fought for. Namely, Amsterdam.


with rolls of hundred euro bills
stuffed in my pockets

I strut down the red lit lane
wearing my seal-fur cape

sweeping past the warm greetings
with a turquoise blunt
hanging from my lips
as the whores whisper my name

Il Duce, they cry
make love to us

and I smile and oblige them
at home in the canals







Click For Previous Week's Daily Mingii