September 29th, 2006
You Touch Me, You Go Me

In light of Belinda's little tryst with Toronto's favourite knucklestop, I thought I'd repost this perennial favourite, and say: HEY TIE, HOPE YOU LOVED MY SLOPPY SECONDS, BITCH.

---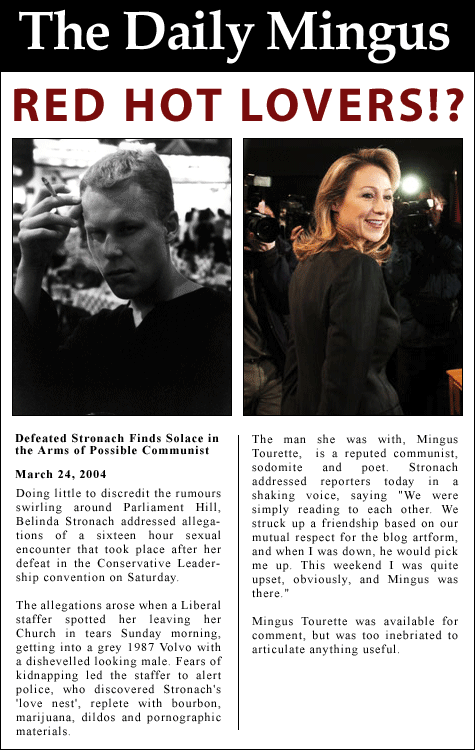 September 27th, 2006
Tea and Strumpets
Dear Emily,

Well, the reading went just fine. I think everybody had a very good time. All the readers were great sports. Jeffrey and his friend Patrick read some quite delicate poems, and looked quite nice in their new attire. The audience was also very supportive. Some folks clapped quite loudly. We had some nice scotch, and some of the gentleman enjoyed their pipes towards the end. I hope all of the audience enjoyed it as much as I thought they did. Myself, I felt a wee bit tired after all the festivities and almost collapsed (don't be allarmed) after it was all said and done. I was just a touch too worked up. Bye and by I was able to get up and enjoy some more tea later on.

Hope all is well, and that you are keeping up with your poetry. It is quite stimulating.

M. Tourette






September 20th, 2006
Sweatshops

I should have more to say on all this. Near misses, bloody bicycles and desert heroics. When your oldest friend's platoon is turned into tomato sauce, it puts many things into perspective.

I say. Many people and their issues suddenly seem motherfucking petulant.

Whatever. Poetry. That's crucial. Like this thing, which is dreadfully important.

THIS SATURDAY
4:30 pm to 6:00 pm
Mingus Tourette's "Big Ugly" Poetry Sweatshop
Sherlock Holmes Pub 10012 - 101A Avenue (Rice Howard Way)
Notorious E-Town iconoclast Mingus Tourette holds court in a downtown bar for an early evening of poetic smackdown. Not for the faint of heart, this is no standard reading. This is Tourette leading a group of poets in a writing workshop like no other. Poets will be expected to drink beer, write poetry, and read it in front of the group. Featuring:
Laurie MacFayden
Adam Snider
Jadon Rempel
Patrick Pilarski
Jeffrey Carpenter
JD Lavender
Haley Nelson
Lara Thesenvitz
Andrew Iwanyk
Nicole Pakan

EDITOR'S NOTE: IF YOU ARE COMING TO THIS THING, YOU SHOULD BRING A PEN, PAPER AND YOUR LIVER. Writing is mandatory. Though drinking is not mandatory, it is recommended.

ALSO: IF MINGUS TOURETTE IS STILL IN A FOUL MOOD AND DRINKS FAR TOO MUCH AND IS YELLING AT YOU THIS WEEKEND, TRY NOT TO TAKE IT PERSONALLY OR ENGAGE HIM IN CONVERSATION OR LOOK HIM IN THE EYE OR DENY HIM ALCOHOL OR TRY TO TAKE AWAY HIS BEER AS IT WILL PROBLY RESULT IN PERSONAL INJURY PERJURY OR SODOMY. THANK YOU.
September 19th, 2006
Poetry Ends
Read this in the Globe, and it went down like a double shot of glass shards.
The four dead were from 2nd Battalion, Princess Patricia's Canadian Light Infantry based in Shilo, Man. Their names and the identifies of the injured were not released pending notification of next of kin.
Yeah, that's your battalion. So, I'm sitting and and doing the math. Wondering if it was your platoon handing out candy when the bicycle detonated. That's a one in three chance. Find out soon, I guess. Now, waiting for them to name names and hoping somebody else was turned into beet soup.
There are hundreds of things to say here. About fear and waiting and old generations and fucking up dinner meetings and reading alone and and shouldering stones and bone weights, but I can't work the mill. The numbers don't make sense. The sums are all wrong.
September 18th, 2006
Poetry Begins
Edmonton's First Poetry Festival kicks off today. Includes poet laureates, concrete poetry for kids, lots o readings, and yes, even the Roar. Which includes my Big Fat Ugly Poetry Sweatshop. Go watch some words.




September 13th, 2006
Science Stories I Have Been Saving for Some Reason
This is old. It has made the rounds of the internet.

In March, they found a furry lobster in the Pacific. I thought this was fantastic at the time. Now, I don't remember why. Sure, the lobster is beautiful and strange. But I don't remember why this was important. Diversity? Obsessions with Architeuthis? Coelocanths?

Whatever. Finally, I share with you, the beauty of the Yeti Crab.




September 11th, 2006
Babiak's Next Serial Joint - The Book of Stanley
It starts today. Somewhere, it is online. Or, you can even read it using a newspaper. In the meantime, catch the Journal article on The Book of Stanley, and the resurgence of serial novels. Who knows. Perhaps they can resurrect a waning public interest in written fiction. Who out there would like to write a serial novel for a newspaper? Anyone? What would it be about?




September 6th, 2006
The Roar's "Big Honkin' Fundraiser"!!!
Thursday, September 7, 2006
The Element Lounge
10807 - 106 Avenue, Edmonton.
8:00pm
Performances by The Raving Poets Band, Todd Babiak, Bob Jahrig, Michelle Boudreau, Jadon Rempel, Kerry Mulholland, Thomas Trofimuk, Mike Gravel, Mingus Tourette, and others.
$10.00 donation required.
The Roar Needs Your Help!!!!
The Roar is a three-day spoken-word festival that smashes into Edmonton every fall. We're building The Roar into the coolest and hippest literary festival in the city of Edmonton (and, maybe one day, in the country). It's a proudly independent festival - almost entirely self-funded - and we need your help to keep it that way. It'll only cost you $10.00 to get into the Roar's Big Honkin' Fundraiser! For your muchly-appreciated ten spot, you'll get a whack of live entertainment and a chance to win some super-sweet door prizes.
---

And there are some good prizes. But one great prize might be watching me try to think of something to read. My head is so far out of the reading space right now. I have zero work that I'd like to perform. Maybe I'll be reading haiku. Or Pinky. Or nothing. Or lying on my back in a heap somewhere because I've had six hours of sleep in four days.

Ah well, the rest of them will actually be great. Up with the poets!







But What Happened Last Month? By God, Find Out Here!