April 26th, 2006
Appearing in Chapters This Weekend: Mingus Motherfucking Tourette

This weekend, Mingus Tourette will be appearing at the Word for Word event at Chapters South Point. The event will feature artists, musicians and several authors who will be signing books and talking with the unwashed masses.

Mingus Tourette promises that if you buy a book at this event, you will get a free poem from the author, written in the place of your choosing. At least that's what the sign says. If you can read it.

And it should be easy to read, because that fucker is going to be six feet tall, propped up on my 'selling table' across the hall from former Member of Parliament, biker and Stalwart Christian, Deb Grey. Along with dozens of copies of good ole nuntastic, the one you keep buried deep under the mattress.

But, don't expect quality poems, because I'll probably be half-cocked, ready to fall off my stool. Or turgidly hung-over. I got some serious ginsmacking to do this weekend. Still, I can't wait for the children prodding their mothers to buy a copy of that book so they can get a free poem written about their stuffed dog with one ear.

Such as this new work, obviously my most important to date:

Pinky

Broken button eyes
in years to come
to come

you will symbolize
everything that was
rosebuds
buds

before it became
pinko
harvard failure applied manifestos
pinkard juilliard
pink taste of gendereXperimentation
pink cover of man ifesto books
warping everything winding
conservative meatbeef eating
pantie spotting
Dykes in the middle

that was innocent and fresh

a Dog
with one ear
before he was burned

Rabies, they said.

Though you should know
it wasn't. They just hated

that you loved that ragged one-eared dog
more than them.

Bitch commies.

---

Yeah, Chapters South Point. I'll be there Noon Saturday till about five, and probably sometime Sunday, if I am not too hungover. It's at 3227 Calgary Trail. The excitement. A real author signing. Come out to watch the spectacle. Stay for conversation. And the fistfights. Oh, and the shitty free poems.




April 25th, 2006
Raving Poets Closing Special
One Poem
One Performance
Three Hundred Dollars
The final night of the season…..this Wednesday, April 26, 2006, at Yianni's Taverna, 10444 – 82 Avenue, Edmonton, 8:00 p.m.

The best poet of the evening, as determined by our celebrity judge panel, will walk away with the cash.
www.ravingpoets.com for details.

And. Imagine a day when Mingus blogs about hockey. Cause you're fucking tired of hearing about poetry. Could happen. I'm a freak about the hockey. On the radio. Plus, no one gets hurt.

Excitement tomorrow. Really. Some funny shit this weekend. Coming down the pipe.




April 24th, 2006
Tha Northern Poetry Review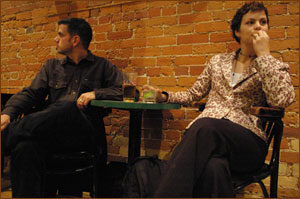 A hot new poetry site's online: the Northern Poetry Review.

It's run by Alex and Dani, who madly love the sport. To testify: they were two of the only Toronto literati who showed up at the original Write the Nation Monday Night Spectacular. Brilliant.

Apparently, the NPR is "an online home for reviews of poetry books, articles and interviews, with emphasis on the Canadian poetry scene. We chose the NPR acronym despite that lovely institution, National Public Radio. While poetry is the obvious focus of NPR, we do not publish poems. Instead, the editors of the site hope to encourage accessible, honest and diplomatic reviews of books published across the country written by reviewers across the country."

So - if you like the poetry, and the reviews, and even Zach Wells, this is probably your thing. Good luck and godspeed, you rhinestone emperors.




April 23rd, 2006
The Poetry Project
A welcome addition to the Sunday paper: the Edmonton Journal's poetry project.

Nice to have such a progressive paper in a province often perceived as one giant beef-laden, oil-soaked, mullet-swinging, jersey-ripping fist-fight staged half-naked in a beer-stained igloo carved entirely from dried cow patties.

In fact, I believe the Journal was the first paper in the country to publish a graphic novel (about three years ago) and the first in North America to run a serialized novel. And now - weekly poetry. Nice work. Though really, the poetry project started three years ago, with a gasmask. If you remember.

Getting there. The revolution - still forthcoming.




April 18th, 2006
Developing Developments
My publisher is tenacious. If nothing else. He tried to strike while the iron was hot, but he missed the anvil, and the iron wasn't really all that hot anyway. So he's trying to strike while the iron is cold. He thinks there's gold in it. I think it'll just hurt his hands. But he's doing it anyhow.

As such, there will be interesting announcements in the next few weeks. Be excited.

Actually. Fuck the dramatic lead up. Here's the lowdown, for all six bucks it's worth:

Mingus Tourette and his simonous doppleganger will be appearing at a bonafide Chapters event next Saturday. It's called Word for Word, and will feature such writing stars as Dr. Shaila Misri and Deb Grey, the former member of parliament, and Mingus, local shithead.

My publisher figures he will dump a big pile of cash into promotional materials , and hope that I sell fifty books or more in one afternoon to help him break even. Honestly, I don't know how it is possible for one man to learn so little from so many mistakes. I couldn't sell Jesus to the dying, yet he is convinced that I can do this one thing in a book store. And so, he prepares to make a spectacular ass of us both, yet again. More details on this soon.

Also, there are rumours that a stage-version of nunt will be performed with a full cast, sets and lighting within the year. Perhaps, even before this summer. Of course, we're not confirming or denying anything.

I mean, who would mount a full production based on a book of poetry?

But, we're just saying. There are rumours.




April 13th, 2006
Kobuku Haiku Redux
In honour of the new haiku site at www.dailyhaiku.org , I thought I'd reprint this haiku sephirot (or kobuku, as it's properly called), with notes. If only I'd stuck to the new mandate. I'd be fucking rich.

As it was, sometime in 2004:

From now on, the Daily Mingus will celebrate daily events only in haiku, and specifically, with hippo-based haiku, and more specifically, in the haiku sephirot format. Interpretations may be added by the author, but do not necessarily need to be read by the reader. I highly suggest forming your own opinion of the koboku haiku sephirot before reading the interpretations.
Hippo I
graceful and silent
the sunken beast emerges
moonlight on the Nile
Hippo II
grazing on shortgrass
mother and calf - nubile lips
kiss the dewy earth
Hippo III
the young male's challenge
answered by a dark master's
unmatched violence

Hippo IV
sweating blood
the intruder submerges
ripple before death


Interpretations of the Moments:
Hippo I: Chloe gets out of the tub after Mingus tears her a loving new one.
Hippo II: Chloe eats ice cream, while talking on the phone with her mother.
Hippo III: Chloe returns to tub, phone rings. The accountant is calling.
Hippo IV: Mingus threatens dismemberment. Hangs up.




April 11th, 2006
Chrysanthemum Alert - Dailyhaiku.org Launches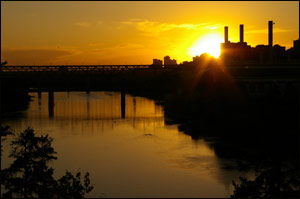 (EDMONTON) A new website devoted to the gentle written art of haiku has arisen.

www.dailyhaiku.org publishes haiku on a daily basis from a team of six internationally-based authors. The site publishes one haiku every day in an effort to bring you a "daily shot of Zen" – a small island of calm and simplicity to your hectic life.
Says dailyhaiku.org founder and Editor Mike Gravel:
"Dailyhaiku.org delivers one haiku every day. That's it. Nothing more. No banner ads, no personal commentary, no clever banter. Just one piece of minimalist poetry published every day. Haiku is a reminder that we all need to stop on occasion and appreciate the subtlety of our lives and the world around us. Dailyhaiku.org is a respite from the craziness of everyday life. The site reminds us that things like poetry are important and worth slowing down for."
To keep the site vital, the six-author contributing team at dailyhaiku.org changes twice per year – once in April and once in October. In the months leading up to a contributor change over, the site accepts submissions. Check out dailyhaiku.org/info for guidelines and details on how YOU can become a contributor. The inaugural contributing team consists of the following authors:
Laurie MacFayden. Raving Poets alumnus. Eternal 11-year old.
Aaron Marko. Die hard iconoclast. Born to raise hell.
Ray Rasmussen. Modern Haiku master. Lover of mountains and much else.
Kelly Shepherd. Lover of simple verse. Live from Korea.
Mingus Tourette. Notorious Canuck poet. Driver of a pink ambulance.
Thomas Trofimuk. Acclaimed novelist. Seeker of the dharma.
Dailyhaiku.org promises to make your life a little more zen-like. It won't do your dishes or walk your dog, but it will strive be a calming influence in your life. It'll be that tap on the shoulder that says, "hey you! Don't be so busy! Chill out, and pay attention to the little stuff!" So checkwww.dailyhaiku.org every day for your "daily shot of Zen".





April 4th, 2006
one last little black hope
If you read that hot Edmonton Journal article and found your way here, you're probably looking for the thousand dollar notebook reward. Or you'd like to read the poem I wrote about it. Both are posted after the jump. And that's it.

The reward was first posted about two weeks ago. Yes, it is a genuine reward. Hand my notebook over, and I'll give you a thousand bucks. No questions asked. And no, I'm not rolling in hot cash money—I'm a poet. But that's what I'm willing to eat for it.

Frankly, I've just about given up hope for it—even though I keep checking snow banks near the ambulance. I first panicked about this in February. It's coming round to the time when I should get on with it, and write about something else. Whether I'd like to or not. Unless an Easter miracle happens, it probably ain't coming back. So, thanks to all who didn't laugh, and to Ohler, who actually thought it was worth writing about it.

In the end - the reward stands. If you know someone who might work near a lost and found, or a landfill, let em know it could be worth big bucks.

Permalink: http://www.nunt.com/notebook.gif.

---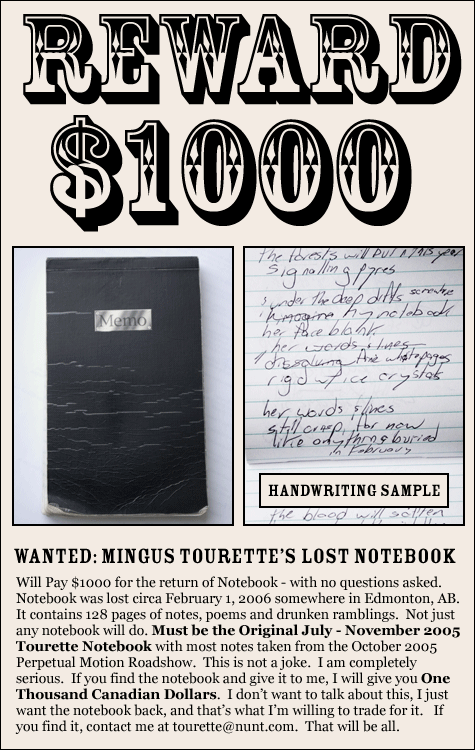 ---

And... the poem.

---

Blue Stigmata

The first snow storm of winter
comes in March.
The forests will burn this summer.
Under the deep drifts somewhere
lies my notebook.
Her face blank.
Her fine aster-white pages
rigid with ice crystals.
Her words and lines
still crisp for now.
Like anything buried in February.
Though soon,
the moisture will slither in.
The blood will soften
and sag heavy through the leather cover,
rotting out
and flowing into the mud.
Later, in June,
when this is supposed to be past me,
I will look at the black veins of flowers
with suspicion.
Stand four footed in the dirt
inspecting xylem and blue stigma for ink.
A pistil at my head.
Sniffing the styla for letters and lost poems.
And frighten spring hikers
with a righteous ridgeback's glare,
nostrils flaring between the petals.
So I'm on my hands and knees, I'll snarl.
Fuck you.
I'm whispering
to my daughter.