February 4th, 2005
Hope for Humanity
It looks like I was wrong about people in general. There has been an overwhelming response to the Nuntmobile Valentine's Day Massacre.

By overwhelming, I mean there has been one response.

A man has ordered a copy of Nunt to be delivered to his 55-year old father's house on the afternoon of February 12th.

No, I'm not kidding.

Nor did I ask any questions. I'm just going to calmly take the money, avoid eye contact and make that delivery. And smile.

For God must be smiling on me.

PS. For anyone interested in getting their head smashed in this weekend, there's another shitkicking at the King's Knight Ladies Night on Saturday night. I'll be there, bashing back more gin, and giggling. Where else do the male strippers have mullets?




February 3rd, 2005
And So It is Nuntmas...
Some of you who still haven't burnt out all your synapses on cheap meth may remember Nuntmas. It was about a month ago.

Some of you may also remember the Nuntmas HotShot Service. It went something like this:
[t]he pink ambulance will be making the rounds of the city this weekend, dropping off books to all the boys and girls who need that special something to shove up the chimney this season. That's right motherfuckers, this weekend only, Nunt is available for free home delivery.Holy shit!
So now, due to overwhelming demand, and to appease my publisher, we proudly present the long-awaited Nuntmas photos. These days, my publisher mostly sits at home and considers sewing himself a wedding dress out of unsold books. So I humour him. The photos are meant to promote a similar Valentine's Hotshot Delivery of pink books, because poetry is romantic, and people are supposed to be romantic on Valentine's Day.

Of course, most people understand 'being romantic' to mean they should buy some flowers, eat some Italian noodles with a cream sauce and try to engage in some fiesty oral sex for at least three minutes before:

a. (if male) blowing a load on the sheets
b. (if female) pretending to orgasm

So, I predict the total number of books on the weekend before Valentine's Day to be:

0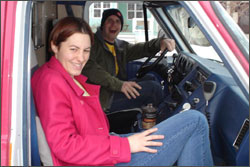 Nonetheless, we'll toss this salad at the wall again, and see if any cucumbers stick. If you want a book delivered to your house that weekend, I will show up in my sanguine beast. Just let me know. We'll have a gay old time. Like I had with the people in these photos from the HotShot Delivery Service in December. Look at how happy they are, sitting in the ambulance, enjoying the true spirit of Nuntmas. These are feel-good photos.

At least, they are feel-good for me and the people in the photos. We ate cookies and talked about music and fed a snake and gnoshed about Edmonton writing and had a good time.

Unfortunately, those of you who missed the opportunity will probably be filled with self-loathing when you see these photos. But look at them anyways. And weep.



And wish for a day

when a pale rider might arrive
on his sanguine beast
smoke belching from its mouth

and the dead gibbering loudly in the shallows
tumbling in his wake

for hell followed with him
and none were safe




February 2nd, 2005
Bunt and Nunt
After several long discussions between Morrie, my publisher and myself, we established a budget for the Valentine's marketing blitzkrieg. It is ten dollars, and it has already been spent. Earlier this evening, I bought a couple of 'Fin du Monde' superbeers and drank them while cranking out the piece of shit animated gif directly to the right --->>

While more elaborate schemes involved a dozen national papers, sneaky classifed ads, and a pink bunt delivery program, my publisher introduced a novel concept and decided he didn't want to stray from it.

This time, he wanted to MAKE money from poetry instead of LOSING money. I don't know what's stuck in his craw.

There was some yelling and some heartfelt offers to drive around the city blasting Roxette tunes over the loudspeaker on the 14th, but it doesn't seem to appeal to management. But, fuck 'em.

If you would like me to deliver you a pink bunt cake and some poetry on the weekend before Valentine's Day, I will gladly do so. Because nothing is so romantic as feeding your loved one some pink cake while reading her a poem about a man's love for a stripper. Except maybe threatening to slice a man's legs off with a straight razor if he looks at your woman again.

Nunt! Bunt! Valentine's Day!




February 1st, 2005
Sun Bleached
I am standing in a white room. The light is bright and stark. I am standing in the corner. Across from me, watching me, is a small group of people. They stand in the opposite corner, huddled together.

There is a great distance between us.

Some of them I know, some of the people are strangers.

I am drinking from a bottle of water. For some reason, the water tastes like gin, and I am getting drunk. I am the only one who is intoxicated.

The walls are lined with images of people. They are not real people. They are estranged. They do not have names, except for Black Sue, and the fellow standing beside me. Who is me. Except that he is brighter and more naked.

The strangers on the walls wear immense cloaks of white.

I am speaking loudly. Everyone else is silent. When I try to make a joke, it sounds like we are in church.

So I read from a holy book.

I preach quickly and firmly, singing psalms about making love in the sky and killing my old wife under the white summer sun. Girls turn red and try not to giggle.

I am not dreaming.

You are there.

Hovering.




January 31st, 2005
Breaking News - Cetacean Emergence Unleashed
Those who missed Shelley Rothenburger's art show opening on Friday night were very foolish. Fortunately, the show is still open for another couple of weeks. Go, take your copy of Nunt, stand in the corner and read Nunto 8 aloud. After drinking half a dozen shots of gin. Then you are not so foolish.

With all the excitement last week, we were not able to bring some breaking news to light. Iraq voted in an election, and only 30-odd people were killed.

And, quite importantly, the long-standing scientific debate about the phylogenetic classification of hippos has taken an enormous step towards resolution. According to some hot Berkeley & French scientists, hippos and whales share a common ancestor. Therefore, the hippo is more like a whale than a pig. Which certainly makes me happy. But the way we look at arteriodactyls will never be the same.

"Our study shows that these groups are not as unrelated as thought by morphologists," Boisserie said, referring to scientists who classify organisms based on their physical characteristics or morphology. "Cetaceans are artiodactyls, but very derived artiodactyls."

Though most biologists now agree that whales and hippos are first cousins, they continue to clash over how whales and hippos are related, and where they belong within the even-toed ungulates, the artiodactyls. A major roadblock to linking whales with hippos was the lack of any fossils that appeared intermediate between the two. In fact, it was a bit embarrassing for paleontologists because the claimed link between the two would mean that one of the major radiations of mammals – the one that led to cetaceans, which represent the most successful re-adaptation to life in water – had an origin deeply nested within the artiodactyls, and that morphologists had failed to recognize it.
This new analysis finally brings the fossil evidence into accord with the molecular data, showing that whales and hippos indeed are one another's closest relatives.
"This work provides another important step for the reconciliation between molecular- and morphology-based phylogenies, and indicates new tracks for research on emergence of cetaceans," Boisserie said. - berkeley.edu

But What Happened Last Week? By God, Find Out Here!