March 31st, 2006
stately slush piles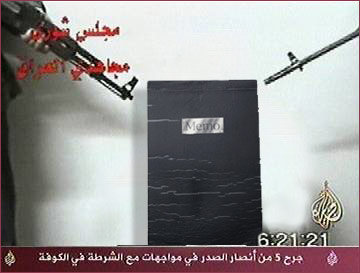 I wrote this little haiku for the kids. We all wrote haiku. Which was a good time. I didn't think it would take that much energy. But it did.

There are rumours of a hot new haiku site arising soon. Be excited.

It will be huge.

As it is.

---

The slush piles blooming
My poor ambulance's tires
deflated - hissing.

---




March 30th, 2006
Circular
I never lose posts.

But then, I never lose notebooks.

So naturally, I just finished a thousand word article on Stanislav Lem, and Irving Layton.

Frankly, it was great. Nicely circular, about teaching. And death. And oddly humourous.

But now it's gone. And this is what you get. Something about nothing.

As well, I received some information the other day that someone may have the notebook. I wrote about that in the post too, but I can't remember what I said. It wasn't that brilliant. About being mad, then hopeful, and then nothing.

Oh, I remember. Irving Layton was the reason I used to run naked. When I was drunk.

Damnit. Out of context, that sounds ridiculous. But it wasn't, originally. It was touching, and a paean to a dead poet.

Jumping into the fertile muck, as he would have written. But now it's just




March 27th, 2006
The Hostage Plus
This Thursday, I am teaching children how to poetry. And not just a couple of children - I'm talking about two classes of twenty-five kids - three hours at a time.

I'm sure this means something in the evolution of the Mingus. Even though I still woke up on Saturday morning with a hangover and sore groin muscles.

No one has written to trade in the notebook for a thousand bucks. Though I think Corey Hamilton would have kicked someone in the spleen to get it. And then he said it was probably in a landfill by now. He's not much for mincing words.

I read that poem about the notebook at the Raving Poets, and won third place in the local poetry contest. First place was a hundred bucks. I won a handshake and a chapbook make from pink foolscap.

Sometimes I think I am a character in a Mordecai Richler novel.

If you watch AlJazeera, you may have seen my notebook on the regular ransom channel. It isn't true. At least, we all pray it isn't. Except for me, because I don't pray. A couple of the other fellahs in here do, but we drown them out with noise makers and gunfire. Anyhow, I blame the funny designers at PN for the AlJazeera hoax. Hmm, come to think of it, one of them did win the original Tournament of Evil. Coincidence? I think not.

Stay tuned for something. Richler-esque.




March 20th, 2006
One Thousand Dollar Reward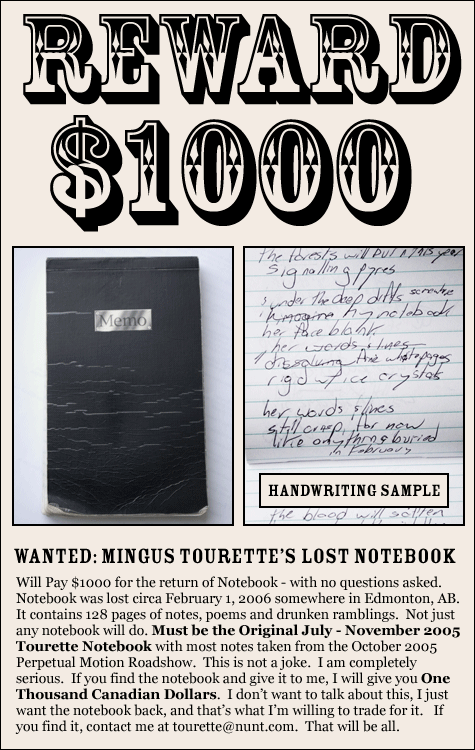 Permalink: http://www.nunt.com/notebook.gif.

March 21st, 2006
World Poetry Day - Edmonton Voices Readings at Audrey's Books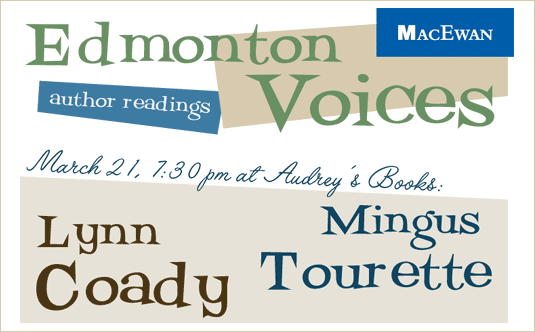 "MacEwan College and Audrey's Books co-host two unique readings that pair student writers with published writers from Edmonton.
The first of these readings takes place at Audrey's Books on Tuesday, March 21 @ 7:30 p.m. Student writers Jeanie Vanderwell and Mark Rumsden are paired to read with Lynn Coady and Mingus Tourette.
The second reading takes place on Tuesday, April 4 @ 7:30 p.m., also at Audrey's, on the corner of 107th and Jasper. Student writers Whitney Exton and Daniel Poitras will be reading with Thomas Trofimuk and Diane Buchanan.
Lynn Coady was born in Cape Breton, lived in Vancouver, and is now working in Edmonton. Her novels Strange Heaven , Saints of Big Harbour, and her short story collection Play the Monster Blind garnered much critical acclaim. Coady's just-released novel Mean Boy is about "poets, ambition, class, ego, magic mushrooms, small towns and academia. It is set in the seventies."
In 2004, Mingus Tourette bought an old ambulance, painted it hot pink and set out on a cross-country odyssey, the Write the Nation Poetry Tour to promote his book of poetry nunt. The book is composed on "nuntos," a sort of anti-canto. Tourette writes and edits the gonzo Daily Mingus and his website says he "has been detained by police for wearing nothing but a gasmask and an American flag." He lives in Edmonton where he is working on his next novel. "
-30-
I wonder if I always sound like a tit of this magnitude. I need to work the words 'critical acclaim' into my bio instead of 'has been detained by police'. Fuck me.
March 16th, 2006
A Reading and a Blue Stigmata
I am reading poetry next week on world poetry day at Audrey's Book Store. Tuesday, at 7.30pm. I am reading with two students and a woman named Lynn Coady.

I will say more about it later, when I am thinking about things like promotion and not neurotically searching through old papers, just in case.

Anyhow, I will probably read a poem or two from the book, and several poems like this, carefully crafted to make the reader feel better about his own life.


Blue Stigmata

The first snow storm of winter
comes in March.
The forests will burn this summer.
Under the deep drifts somewhere
lies my notebook.
Her face blank.
Her fine aster-white pages
rigid with ice crystals.
Her words and lines
still crisp for now.
Like anything buried in February.
Though soon,
the moisture will slither in.
The blood will soften
and sag heavy through the leather cover,
rotting out
and flowing into the mud.
Later, in June,
when this is supposed to be past me,
I will look at the black veins of flowers
with suspicion.
Stand four footed in the dirt
inspecting xylem and blue stigma for ink.
A pistil at my head.
Sniffing the styla for letters and lost poems.
And frighten spring hikers
with a righteous ridgeback's glare,
nostrils flaring between the petals.
So I'm on my hands and knees, I'll snarl.
Fuck you.
I'm whispering
to my daughter.
March 14th, 2006
Mike Gravel Traded to Red Deer
Editor's Note: Those RP fellahs are funny. Too bad I'm working split shifts. Go enjoy them yourselves. The fun! Look at their amusing press releases! This is entertainment. Also, you can hear me rip up a couple poems with them on their site.

(EDMONTON) Last Wednesday was the Wednesday of 120 per cent…the band vowed to push their performance beyond their usual 110 per cent and ramp it up to 120!!! Stand-in host Thomas Trofimuk set the goal at the beginning of the night…and the poets rose to the challenge. The poets were tremendous, sublime, weird, edgy and heady. Trofimuk, apart from starting out with some sort of strange tribute to Yianni's boss lady Tammy, was his usual laconic self.

When asked about his brief hosting style in a locker-room scrum after the show, Trofimuk said: "F**k you. How's that for terse?"

Guitarist Randy Edwards, a man who has three pet iguanas, said he thought the evening probably clocked in at about 123 per cent. "Structurally, I thought the night built momentum. There were moments of 150 or 160 per cent. Frankly, I can hardly wait for next week."

"It's a no trousers night next week," said Percussionist Gordon M. "We're committed to ramping up our performance."

Regular Host Mike Gravel, in a shocking turn of events, was traded to a poetry series in Red Deer for a first round draft pick and $3 million U.S.

"I what?" he said when he was told about the trade. "Red Deer? I don't know anybody in Red Deer. Are they even in the playoffs?"

"Frankly, we needed the money," said Trofimuk. "Gravel has had trouble with the law and we just thought he might benefit with a fresh start, a new group of poets…We wish him well down there. We've put the call out to the farm team in Calgary for a new host and our scouts will be making suggestions in the coming weeks."

Every Wednesday night from now until the end of April, The Raving Poets Experience happens at Yianni's Taverna, 10444 – 82 Avenue, Edmonton. 8:00pm start time.

Our next gig is on Wednesday, March 15. Get out of the house! C'mon down to Yianni's and cut a rug with us! Or listen to us jam with Mingus Tourette! Fuck yeagh!
March 9th, 2006
Step and a Whirling Spire Ethel on CBC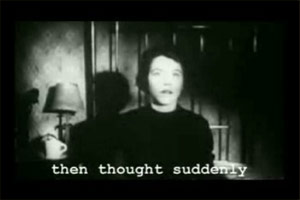 I lied. A Step and a Whirling Spire wasn't on the CBC Tuesday night. Instead, Ethel was.

You can see it at Zed Real. It's pretty funktastic, though you must watch carefully. It's short, and the audio clips at the end, which decreases the staggering emotional impact. I'm guessing that the Step was too long. Or I lied about it from the beginning to make myself feel more Jeremy-esque. Anyhow, always interesting to see interpretations of the work.

If you hate TV, you can just read the poem, as it exists below. It has been described by journals such as The Manchester Review and The Newbery Bisque as "iridescent ... a work of pulverizing trueness... simply sublime, not unlike Pound at his best". Test it for genius yourself:

Ethel

got a letter
from the Canadian Mental Health Association
addressed to Ethel Munro at my home
today
and thought
hmm, no longer at this address
then thought suddenly
OH SHIT
what if she is?
March 7th, 2006
Step and a Whirling Spire on CBC
About a month ago, a producer from CBC contacted me. A faithful Brandon Daily Mingus reader had flipped a link her way. She read A Step and a Whirling Spire and liked it.

She works on a late night show called Zed Real, which has supposedly transformed the poem into an animated text / image / video segment for the show. Anyhow, I just found out that it's on tonight, Tuesday, at 11.25pm. So, if you're up late, check it out. If not, it'll be online in a couple days - I'll update when it is.
March 6th, 2006
Big Films
Apparently, the Academy Awards ran last night. They honour the best and brightest.

Which reminds me of my encounter with a man who has made almost a thousand films — far more than the so-called king of films, Christopher Lee, who hasn't even made three hundred.

The other day, I saw Ron Jeremy walking out of a television studio downtown. I walked right up to him and said, "Mr. Jeremy, I'm a big fan of your work." And I shook his hand. Which put me at one degree of separation from a lot of prime rib.

He smiled and nodded knowingly, like he knew everything about everything.
March 3rd, 2006
You Choose The Winner
Who had the bigger brain malfunction:

A. The leader of an entire province who threw the official Opposition's health proposal at a schoolgirl in front of a pack of schoolchildren visiting the Provincial legislature. Link.

B. The Sudanese man who was forced to marry a goat after making love to it. Link

You make the call!
March 1st, 2006
Presstidigitation
Now that the Olympics are over, perhaps some of the Canuck media will cast their hazel stares to the East where Iraq shivers on the brink of civil war. (NY Times | Bloomberg | BBC ). Or maybe not. As of this writing, Canada.com, The Globe & Mail and CBC.ca all have their top story as: the bungled murder case of two Canadians in Mexico. Interesting, yes. A possible world-shaping event? No.

Perhaps we should navel-gaze a little more and ask ourselves, where did the Canadian hockey team go so wrong? Perhaps it was in the exclusion of (take yer pick): Staal, Savard, Tanguay, Crosby or Marleau. Or Spezza or Kariya.

All I can say, again and again is: Forsberg is The Man. Freaking dominant. Even this year's stats – only forty games played, but sixty some points. If he'd been healthy all year, he'd be neck and neck with Jagr for the Art Ross.

Not that I watched the final game. I was still busy trying to put my apartment together on Sunday. Because I couldn't stop looking for the notebook. On Saturday night, instead of heading out with a friend or two, or drinking with women, I spent five hours methodically checking every square inch of my apartment for a four by six pad of paper. And I didn't even notice the time go by. I started when the sun was still up, and I looked at the clock at nine-thirty when I had exhausted every drawer, seat cushion, box of paper and stack of books. This is a problem and it isn't going away.