August 14, 2004
Mingus Tourette's Write The Nation Tour
On this special Saturday edition, I ask any loyal readers to give feedback on what appears to be our final tour name.

It will be:

Mingus Tourette's
Write The Nation Tour

Love it? Hate it?

What you say could affect the course of Canadian history.

And don't forget to get your entries in for the summer tournament of MegaEvil. The cut off is Monday night!





August 13, 2004
an extended history of il Duce
now that the contest is almost over and the battling has been superb, I feel I can reveal the tantalizing story of il duce.

as the prize list goes, il Duce is:

1 12 inch double pronged Doc Johnson dildo, nick-named Il Duce. Like new.

Most people believe that I have been joking about the 'like new' part, because nobody wants to believe that a man would be perverse enough to package up a used dildo with a bottle of whiskey and call it a prize. Nor would any of the contestants be particularly pleased to discover they had been working hard for something that may have been the centre-piece in a lesbian orgy.

Truth, however, can be a horrifying thing.

Some of you may remember my good friend Ronnie, aka. The Assman. The last time we ate a long and greasy breakfast, he was working in a house of porn as a camera operator and occasional guest star. Or rather, he tried out for the guest star role by having intercourse with a rubber sex doll. Since then, Ronnie has bunked up with one of the starlets and engaged in various acts of web-streamed sodomy and face-splattering. He is, as I understand, quite content. It bothers him when his starlet is engaged with other men, of course, but he finds the trade off quite rewarding. That is: his starlet and other women.

Ronnie's explicit girlfriend is a German immigrant named Regina (pronounced differently than the saskatchewan asshole), and she is supposedly insatiable when it comes to riding the stiff one. And she loves women. Or at least, she loves women on camera. Ronnie described it to me on the phone about a month ago.

"Well, she loves pussy," he said. "But she loves getting the cock at the same time. Which is fucking great for me."

"Yeah," I said. "Good for fucking you."

"It is. But sometimes it gets too hot for me, you know, these two crazy German bitches going at it while I'm fucking her from behind, and sometimes, I can't hold off and I bust my nut before she's finished."

"You bust your nut? Do you really say that?"

"Oh fuck, you wouldn't believe the shit I say."

"I'm sure I would."

"But I really like her, eh? And I really wanted her to get off, so the last time I, you know, busted too early, I just picked up one of the dildos that was lying around and plugged her with it till she came."

He paused.

"She really liked it."

"It's very thoughtful of you."

"I know," he said, pausing. "And 'cause she liked it so much, I thought I'd get her one of her own. You know? And cause I thought she was digging the women so much, I thought I'd get her a double-pronger."

"Seems logical."

"Big fucking mistake."

"Gee Ronnie, I don't know how giving a new girlfriend a double-headed dildo could ever be a mistake."

"Well it was. We were fucking one night, and I pulled it out. And I'd wrapped it up with a bow, so it would look sort of pretty for her..."

"You're a true fucking romantic, Ronnie."

"I know. And when she saw it, her eyes lit up and I thought she loved it, and we were sitting up and she started to play with it, you know, rolling it around her box. And she said, 'For me? And you?', and I nodded and she went a bit crazy and pushed me on my back and told me to close my eyes for a second, and I could hear her spitting and sliding and I peeked and she had the thing half way in her asshole and I was thinking it was a pretty good idea. And she sort of grabbed my ankles and started pulling me in, and I thought I was going to crawl on top and fuck her while she had the dildo in her ass, but..."

"But?"

"Well, she's pretty strong. And I was confused. I thought she was wiping spit on my balls, and she started to play with my asshole a bit and then before I could do anything, she grunted and stuffed the tip of that thing into my ass and pushed and I swear, I screamed like a retarded little girl."

There was silence.

"And she didn't care. Goddamned nazi ass butcher. She just crammed the whole thing in there til our assholes were grinding and kept at it till she got off. That crazy bitch really fucked up my colon."

I did not know how to console him. He just wanted it to be gone from his life. But he thought it should have a good home. And so did I. And not just any home.

A champion's home. And so it will be.




August 12, 2004
readings
Spent another Tuesday night with the Raving Poets, had another good time, and another handful of double gin and tonics. Apparently, my life lesson concerning double gins doesn't apply to Tuesday nights. But hey, it's not like I was getting real drunk. Just Tuesday drunk.

Second time reading was better than the first. I read Nunto 14, introducing it as a Mingus Tourette love story. 'Cause there's nothing quite as touching as the unrequited love between a man and his stripper. I have no idea how it sounds, but it's a rush reading this kind of passage out to a dark room full of people, some of whom are grandmothers:

You want to wake up
in my bathtub and
look up to see your legs hanging
from my towel rack
and me standing over you
in a lab coat and a welding mask
holding a straight razor?

The reactions are predictably polarized. Some people love it. And some people are wondering why the fuck the police haven't shot me yet. I'm sure it's a bit disconcerting at the end of the poem, when I get in nice and tight to the mic, real intimate like, and slowly, deeply, LOVINGLY finish off with this little crowd-pleaser:

she wriggles down that pole during the 9th
in a way that makes my asshole tingle
like my cock's about to blast off into the air
and soar into the sun

Reading. It's not bad. More fun than I would have predicted.




August 11, 2004
cambodian style
Recently received a couple of entries in the tournament of MegaEvil that sort of took my breath away. Just when I think I've seen the best of them all, artists keep coming at me with all kinds of angles. A couple of days ago, I found one on a forum and my only response was 'holy shit'. Sort of fucked with my mind. And sometimes, it all wrecks shit in context.

This one, for example, is as simple as it gets, but it hit the whole fucking deal on the head. It just read: "This may not be your best entry, but it asks the real question Mingus asks himself." And if you've read the poem, it'll really mess with you. As it is, hats fucking off to all the contestants so far. Some really great fucking work. Peace, and thank you for joining in.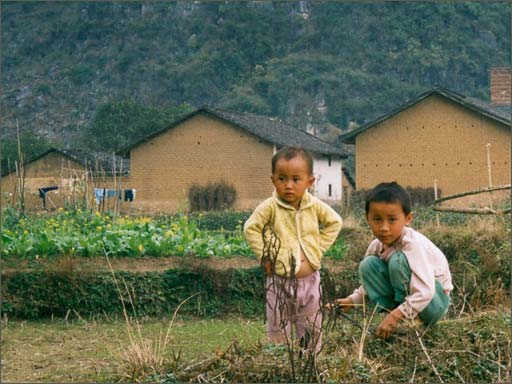 August 10, 2004
inert
Gander and I hit the pub on the weekend. He was feeling a bit sour, maybe 'cause he and Celina were having difficulties with their long-distance marriage. After a few drinks and a few smokes, I asked what his problem was.

"Fucking existential crisis," he replied. "Can you fucking believe it?"

"Seriously," I said.

"Never more serious than this," he said.

Atheists are well known for their experience with existential crises, and we are therefore better equipped to deal with it than most. And we're wellsprings of advice when it comes to the yawning meaninglessness of it all. Everyday is a potential existential crisis for an atheist, the mirror reflecting an aging ape losing his shine, a man closer to the obsidian wall. Or so it might appear to a waning Catholic.

As he was looking for something, I told him, "Usually, I've got five things I can do to ward off the gaping problem of meaningless existence. I don't have the shield of god to protect me from asking myself what the fucking point of it all is, so this is what i got." And then I laid out Tourette's Five Defences Against the Existential Crisis. As such:

1. Writing. Nothing gives meaning to nothingness like trying to define it. Such is the nature of quantum physics and existence.

2. Drinking and / or psychotropic drugs. An altered state of reality is not necessarily a better reality, but it can certainly be a clearer reality, in a way. Or at least the fear goes away. And the good times start. I'm not sanctioning heavy substance abuse, but desperate Sartre-like nausea sometimes requires serious medication.

3. Walking. Worked for Mr. Miller and it works for me, for some reason. A good long walk in the bush or the city streets seems to relocate me, humble me just a bit. The human struggle may be meaningless, but watching it and understanding it seems liberating. Or maybe it's just the fresh air, reminding us that humans like to be outdoors once in awhile.

4. Talking. A writer writes to be understood, not to be admired. Thus spoke Friedrich Nietzsche, and he was right. Compliments are fan-fucking-tastic, but there is nothing like realizing that someone else is sitting in the room who shares the same perspective and probably understands exactly what you have experienced. Understanding - good.

5. Woman. When the bed is empty, it is empty. We are a bunch of shaved animals, and we were built to survive and to procreate. And so, when the bed is empty, life is just about fucking meaningless. Really, there is nothing better than a good long fuck followed by a slow drift into sleep, slick with each other's sweat, the meaninglessness of existence so far away it doesn't matter at all.

And that's what I told Gander. And he took it in, and weighed it against his fading Catholic beliefs and then got drunk over a long bullshit session. We shared some more secrets about staring into empty mirrors and then walked home. And I dreamed of Chloe and wished she were there and he wrote a letter to his wife cause she wasn't there and he missed her.




August 9, 2004
One Week Left
A reminder to all those mighty warriors who are considering battling for the ultimate prize in Tourette's Summer Tournament of MegaEvil: THERE IS ONLY ONE WEEK LEFT TO GET YOUR ENTRIES IN.

The competition thus far has been superb, as it should be. Last time a mere gasmask was at stake: this time, a man can walk away with a double buck rimshot hatchet job known only as Il Duce. Forget everything else in your life, spend the next week building a composition that will knock the crap out of your competitors.

For those who have forgotten just what is at stake, a pictoral reminder: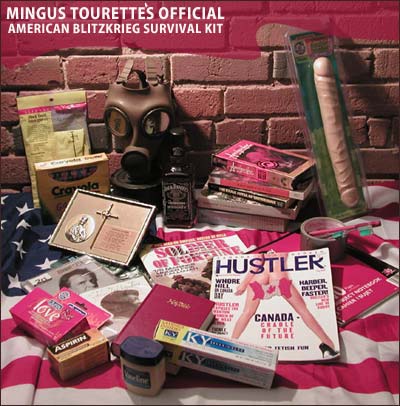 Click For Previous Week's Daily Mingii