October 2, 2004
One
Read with some fantastic poets this morning - Douglas Barbour, Stephen Heighton, Richard Harrison & Rhea Tregebov. Intimidating, b/c they're all well-known and award-winning, but they were all warm people - quite welcoming. And, had a chance to pay some tribute to Douglas Barbour, who was the first real poet I ever met, and inspired me to start writing seriously, about ten years ago.

Now, the driving starts. I'm well behind schedule, trying to get the shit packed and ready and it'll probably be another late night, but so it goes. Vancouver, here we come.




October 1, 2004
T Minus One
The last day of work before the three week odyssey begins. Some great new people have been added to the tour, and the real indie spirit of the whole thing seems to be catching fire. Even the media is finding the thing interesting. As written in yesterday's Edmonton Journal.

"[T]ourette and the Rimer brothers are doing beautiful things. They're taking huge risks with material that almost never reaches mass audiences...They're lying in bed dreaming themselves away from Blockbuster and six-packs and repeats of the Apprentice." - T. Babiak

And something I found to be good news - a couple of very well respected University printed reviews from writers who really seemed to get the book. Which is good. Because there are a number of people out there who really don't seem to be able to get past the obscenity - something I'll discuss in great detail later on.

If you're interested in the reviews - check the responses from Montreal's Concordia University and the University of Waterloo.

Not that it's resulting in ass-crushing sales - internet proceeds remain at $0.00. But traffic here has increased vastly - well over a hundred people a day hitting the site now, which may not seem like that much to internet legends like Maddox, but it's a big jump in the last month.

Which reminds me, I forgot to celebrate the one-year anniversary of The Daily Mingus last week. One year. Whoop. To celebrate, I think I'll take another ride in the ambulance - with the logos.

Yep.

Here we go.




September 30, 2004
The Edge of a Dream
Realizing now, that this thing is happening. In three days, I leave for Vancouver. When I arrive, I will stand up in front of a room full of strangers in a bar I have never seen and recite words I have written. Afterwards, a poet named ct staples will introduce himself. He will be tired because he has just hitchhiked all the way from San Diego to join the tour. I have never met him, but we will be roadmates for two and a half weeks, sleeping in close quarters, eating together, reading poetry together. With that many hours on the road together, I will know him better than some people I have known for years. So it will be with some of the other people that we meet on the road - the folks in Ontario, the writers in Montreal, the poet woman we pick up in Brandon at a 24-hour Husky in the middle of the night on our way to Winnipeg.

Strange, the places that monomania can take a person. If I had time, perhaps I would stop and consider how odd it must seem to drive a pink ambulance across the country to promote poetry. But now, it just seems to be the final push in a decade-long gambit.

It is hard to discern where it started. Did Nat put me on this path? Or is this just the precipitation of what I started six or seven years ago, when I decided that I would spend two entire winters writing? Did it start in the time that I wrote a novel in November, a screenplay in December, and another novel come January? In the time when I watched my writing change because of the sheer volume of material I fought through, because of the sheer number of great writers that I read, because of the obsession that gripped me and forced me into becoming social pariah? Or did it start when I realized that becoming a successful writer was going to be almost impossible living in isolation in a cold Canadian basement without a single publishing or media contact?

Perhaps it started when I realized that even becoming a published writer didn't mean a thing to the dream of writing every day again. That only a very lucky few can afford to do so. That the only way to reach that level again would be to either spend forty years striving slowly towards it, or to assault it from the front and attempt to create such a stir with a first book as to allow one to retire and write every day.

Doesn't matter, I suppose. Somewhere, the monomania got into me and kept at me, until I laid out this path and started walking. And left everything else behind. In all likelihood, it won't lead to enough book sales to allow me to retire and write full time, but there will be nothing more I will be able to do about that. And maybe, if I can't retire, perhaps I can retire from the monomania.

A fellow poet requested
I take his four year old grandson for a ride in the ambulance

the man wrote a poem about the ambulance
and the coming trip
and wrote about the stretch
north of lake superior

where we may break down
like Tom Thompson,
and maybe go mad
and bark our words to the pines and the mink
and go lucid in the autumn colours

I have never inspired a poem before, I think. Except from Nat. Who would write me all kinds of poems. And hate letters. And love letters. It is two thirty in the morning. I have taken to dropping pseudoephedrine, recommended by an old friend of mine with experience in these manners. It leads to tunnel vision, but one can sit in front of the machine for hours and write. The perfect drug for a monomaniac.

Of course I will give his grandson a ride in the pink ambulance. It seems like such a natural thing to say. But however do these things get started? And how do they end?





September 29, 2004
Road Stories at Home
Past the chicken wings and the masses of Bloody Mingus and the risky dual reading that actually turned out to be supercool, were a batch of interesting side stories.

Snapshots, really.

A friend of mine who has been directing short films in Korea for a year, arrived back in E-Ville on the night of the launch, and showed up at the reading, jet-lagged and out of his head. He bought a book and I made him pay for it in Korean money.

The woman who was doing her homework at the bar last Thursday when the poets invaded. Mike told me the story that she told him. She was going to leave, but sat and listened for a while and got sucked into it. And she heard we were going to be doing it again on Monday, so she came down with a couple of friends and bought a book. She told Mike that she had never thought poetry could be like that.

The fellow who said he was a grandfather, but looked pretty young for it. He came in late and wanted to talk philosophy and politics and we did and he bought a book and wouldn't take the five bucks change, because he wanted to support the tour, to support the rise of the poet.

And the two beautiful people who parked out front in a Jaguar and came into the bar looking for sex or drugs or rock and roll, and found us instead and sat and listened to the whole thing and it hit them because it was 'very real'. There was talk of fate and stories about the time one of them met a famous writer on the beaches of Hawaii, and how he was just a lonely guy and they talked and enjoyed each other's company and they still keep in touch. And they bought a book and wouldn't take change either, because every book is worth at least twenty dollars. And when I signed it, I wrote that I was glad that they found what they were not expecting.

And one of the few Christians I can discuss religion with telling me that he and his church have split ways because the church people wouldn't answer his questions, and knowing that we have another long drunken conversation ahead of us when I get back.

And all the old friends and new friends I didn't have time to talk with because I was far behind the schedule and busy spilling drinks. That one I miss.

Just a few of the stories from one night. Got about twenty nights like that ahead of me starting on Sunday. Hell, even if I just sell a few books, and I lose lots of money, this trip will still be worth it, just for the stories.





September 28, 2004
Tropical Storm
There was much merriment and eating of chicken wings. And buying and selling of books. And drinking of Bloody Mingus'. And giving away and receiving of prizes.

And, of course, there were young ladies dress in nun habits and what else does anybody need on a monday night?

Thanks to all who came out. Especially to the nuns and the introducers and the people who just came down because they like poetry and had nothing better to do.

Launch-eriffic, indeed.





September 27, 2004
The Launch
Well, one hope that this evening is a watershed event. One hopes that fifty to one hundred people spontaneously arrive at the backroom vodka bar at around seven o'clock in hopes of getting an ambulance ride.

One hopes that I'm not living in said ambulance down by the river in December.

If no one shows, I'll just split the fifty bloody Minguses between me and Uncle Pat and we'll put on the two nun outfits I bought and lay into it until the barowner looks at us in disgust and throws freedom fries at us until we sprint out of the bar in a panicked state, convinced that Patrick Swayze and the Wolverines are attacking.

The agenda, for the throngs who plan to attend: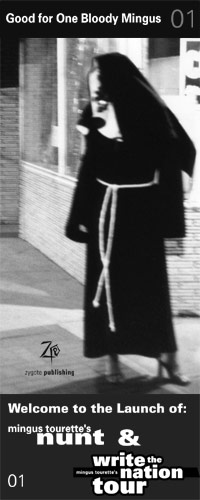 7.00 pm
Doors open. Drinks available. Ambulance Rides for Early Arrivals.
7.45 pm
Freedom Fries, Buffalo Wings and other Foods are dispersed.
8.00 pm
Brief welcome. The first door prize winner will be announced.
8.05 pm
Pleasant Mingling. Clever banter between people who haven't seen each other for many months, mostly because they like it that way.
8.30 pm
Mingus Tourette is introduced by Mike Gravel. The pair attempt an intricate, yet risky dual reading routine which will come off as

a. supercool or
b. supergay
9.00 pm
The Second door prize (aka. The Inflammatory Prize) winner is announced. In the event that the dual reading is judged to be supergay, this event may be moved up to cover its shortcomings.
9.15 pm
Mingus Tourette reads poetry to the audience. This is the bread, the butter, everything that people have been waiting for. By this time, the ambulance will be parked, and Mingus should be sufficiently ploughed to say the word 'cunt' in front of elderly co-workers.
9.30 pm
The Last Door Prize (aka. A Good Night of Drinking Prize) is announced. Trust me - on this one, there is a supercool item that most people will believe had long since disappeared and would never be available again. It makes me weep to think of what Sweaty Charles had to do in order to get this.
10.00pm
Mingus forgoes the standard 'book-signing', for the lesser known 'book-urine-staining'. It is amusing to a couple of people, but most are secretly disgusted and will donate their force-purchased copy to a hobo on 95th street.
midnight
The police. The hospital.
The Purple Onion.

So - I highly advise that you make the effort to come down to this once in a lifetime event. Ride in the ambulance, drink the Bloody Mary, smell the glove, and get blistering drunk on a Monday night. On poetry, that is.

Backroom Vodka Bar. 8 pm (or show up according to what you want to experience).
10324 – 82 Avenue. That's on Whyte Ave, above the bead shoppe, across the street from the Princess. Watch for the pink ambulance. Or the nuns.







But What Happened Last Week? By God, Find Out Here!